CSC News
March 23, 2004
CSC majors refurbish computers for Henderson Middle School
Computer science students at North Carolina State University's College of Engineering made a special delivery recently, to the students at Henderson Middle School. From March 12-15, members of the computer science student organization, ACM/AITP, delivered 25 refurbished computers for use in two new computer labs being set up in the middle school later this spring.
ACM/AITP officers had been preparing the computers since early this year, using machines provided by the Goodwill Foundation of North Carolina and Windows 2000 software donated by Microsoft, as well as the necessary patches and updates. ACM/AITP is the student chapter of the national Association for Computing Machinery/Association of Information Technology Professionals.
The officers also created a database documenting the service work done on the computers for the school district's information technology staff.
An initial set of four computers was configured for use by the school's administrative offices and delivered earlier this year. The remainder will be used in two computer labs being set up for use by students assigned to in-school suspension. This will enable the students to focus on individualized learning in math and reading and help advance their skills in these areas, according to Larry Webb, assistant principal of the Henderson Middle School.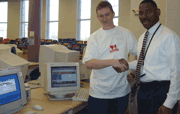 While getting up early to do the mass installation on the computers "really doesn't sound like fun, knowing that the computers would see much good use was the real joy in doing all of this," says Travis Cornwell, a computer science and statistics senior at NC State and president of ACM/AITP. Henderson Principal Victor Fenner, on right in photo, thanks Cornwell and ACM/AITP officers for their efforts.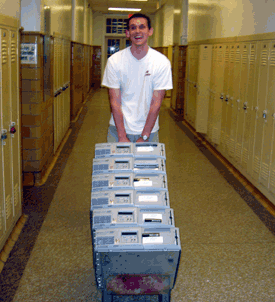 Chris Belcher, ACM treasurer, right, was among the officers involved in the project, including helping to get the computers in place at Henderson.
"We really appreciate the opportunity to do this," Cornwell says. "It would not have been possible without the efforts of many individuals in many different positions. We (ACM/AITP) would love to do something like this again if Goodwill and Microsoft are willing. Mr. Webb has expressed an interest in a continued partnership as well, as they can easily accommodate another two labs, donations willing."
The Goodwill Foundation featured the computer project in its Fall 2003 newsletter. In an article in that issue, the Foundation states that it accepts donated computers from companies that are upgrading to new systems, and makes the equipment available to organizations that need computers but do not have the budget support to purchase new equipment.
- rzewnicki -
Return To News Homepage