CSC News
May 28, 2013
Alumna Bushra Anjum Selected to Attend Heidelberg Laureate Forum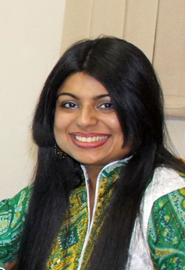 Bushra Anjum, a 2012 PhD graduate from the NC State Department of Computer Science, has been selected as one of 200 of the most qualified young researchers from all over the world to attend the first Heidelberg Laureate Forum. The Forum will take place September 22-27, 2013 in Heidelberg, Germany.
More than 600 young researchers applied for the Forum. Anjum is one of 200 of the most qualified young researchers in the fields of mathematics and computer science who were chosen to attend.
The Heidelberg Laureate Forum offers the extraordinary opportunity to meet some of the pre-eminent scientists in mathematics and computer science to a select group of young researchers. During the week-long event, they will interact with recipients of the most prestigious prizes for mathematics (Fields Medal and Abel Prize) and computer science (Turing Award). Lectures and workshops offer plenty of opportunity for scientific exchange, while a rich variety of social events encourages the young researchers to engage in casual conversations with their scientific role models.
The Forum was initiated by the Klaus Tschira Stiftung (KTS) and the Heidelberg Institute for Theoretical Studies (HITS). It will be organized in collaboration with the Association for Computing Machinery (ACM; Turing Award), the International Mathematical Union (IMU; Fields Medal) and the Norwegian Academy for Science and Letters (DNVA; Abel Prize).
For more information on the Heidelberg Laureate Forum, click here.
Anjum is currently an assistant professor at National University of Computing and Emerging Sciences in Lahore, Pakistan. While a student at NC State, Anjum was advised by Dr. Harry Perros.
Return To News Homepage