CSC News
May 16, 2013
Department Confers 207 Degrees During Spring Diploma Ceremony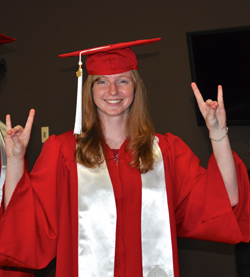 The NC State Department of Computer Science conferred 207 degrees during the Spring Diploma Ceremony on May 10, 2013. More than 1,200 relatives and guests celebrated with our graduates, faculty and staff during our ceremony held at Providence Baptist Church in Raleigh, filling both the main sanctuary and the overflow area in the fellowship hall which featured a live video feed of the ceremony.
This graduating class included 9 Ph.D., 98 M.S., and 99 B.S. degrees expanding the department's alumni base to over 7,000. It was one of the largest graduating classes on record for the department.

The undergraduate class included eight Valedictorians (perfect 4.0 GPA): Joseph Glenn Arthur, Stephen Thomas Cossa, Robert Winslow Dalpe, Ryan Bradley Gross, Brian H. Li, Sean Patrick Mealin, Michael Peter Owoc, and Neil Ameet Shah; five Computer Science Honors Program participants: Vincent Gregory Bugica, Robert Sherman Hudson, Sean Patrick Mealin, Neil Ameet Shah, Shashank Srinivas; nine University Honors Program participants: Joseph Glenn Arthur, Vincent Gregory Bugica, David Jay Claborn, Robert Winslow Dalpe, Daniel Reid Farrell, Michael Cleveland Miller, Neil Ameet Shah, Shashank Srinivas, and George Page West IV; four University Scholars: Nicole Collichio, Stephen Thomas Cossa, Timothy David Kinlaw, and Pareen D. Patel; and numerous members of a variety of scholastic honor societies.
Dr. Mladen Vouk
, department head, professor, and Associate Vice Provost for Information Technology, congratulated the graduates on their accomplishments.
We were honored to have alumnus Nate Johnson (B.S. 2000), serve as our keynote speaker. Johnson is a meteorologist and executive producer at WRAL-TV. In addition to his responsibilities at WRAL-TV, Johnson is also
an instructor in the Department of Marine, Earth, and Atmospheric Sciences at NC State. Prior to moving to Raleigh, he was a data services meteorologist with Baron Services in Huntsville, Alabama, and previously, chief meteorologist at KTXS-TV in Abilene, TX. He holds bachelor's degrees in meteorology and computer science from NC State and expects to complete a master's degree in communication later this year. He holds the Society's Certified Broadcast Meteorologist designation. You can learn more about Johnson by viewing his profile on the Computer Science Department's Future Students page.
Providence Baptist Church provided a wonderful setting for the department's diploma ceremony, with comfortable accommodations and professional AV capabilities. DVDs of the ceremony are available for a nominal $25 processing fee (click here for order form). DVD and/or commemorative brick orders must be received no later than June 28th. Additionally, a professional photographer took photos of each graduate as he/she received his/her diploma. For more information, please contact the photographer.
Our special thanks go to NetApp, the Computer Science Department ePartners Program, its participating corporate sponsors, and the NC State Engineering Foundation for their generous sponsorship of this event.
~coates~
Return To News Homepage