CSC News
April 15, 2013
Coates Nominee for CoE Award for Excellence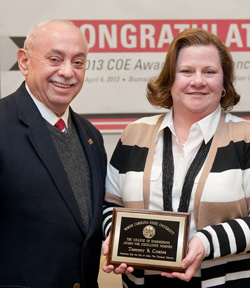 Tammy S. Coates
, public communications specialist in the NC State Computer Science Department, was recently recognized as the department's nominee for the College of Engineering 2013 Awards for Excellence.
Per Coates' nomination, "Tammy is a tireless, selfless, and resourceful team player, whose contributions to the department of computer science will have a significant and lasting impact for years to come…She works diligently behind the scenes to ensure the mission critical events and activities throughout the year take place on schedule, within budget, and according to the standard of excellence that defines the department of computer science…"
This year's College of Engineering Award for Excellence winners were Hailey Queen, advisor in Academic Affairs, Meghan Johnston, accounting technician in the Department of Materials Science and Engineering, and Debbie Allgood-Staton, business officer in the Edward P. Fitts Department of Industrial and Systems Engineering.
The awards were announced at a ceremony held April 4. Dr. Louis Martin-Vega, dean of the College of Engineering (pictured above with Coates), presented the winners with plaques and $250 gift checks. The winners also received eight hours of paid time off and are now nominees for the NC State University Award for Excellence.
For more information on the College of Engineering Awards for Excellence, click here.
~###~
Return To News Homepage