CSC News
April 12, 2013
Senior Design Center's "Posters & Pies" Planned for April 26th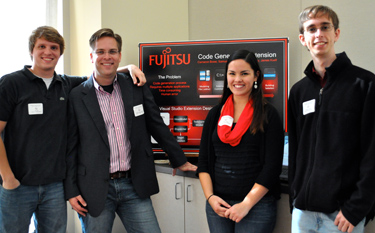 The public is cordially invited to attend the NC State Department of Computer Science Senior Design Center "Posters & Pies" event on Friday, April 26, from 10:40 am - 1:00 pm.
Project presentations will be held 10:40 am - 11:30 am in Engineering Building 2 (EB2) room 1025 on NC State's award-winning Centennial Campus. Posters and demonstrations will be displayed 11:30 am - 1:00 pm in the Multipurpose Room in the Hunt Library (Note new location!). Lunch (pizzas and dessert pies) will be provided. The event is sponsored by Super ePartners, Deutsche Bank Global Technology & EMC.
This semester, the sponsors and projects are as follows:
Boeing

– A Common Callable Data Validation Module

Deutsche Bank Global Technology:

Welcome to the HIVE

NCSU EcoCAR - Year 2:

EcoCar 2: Center Stack Overhaul

Entrepreneurs:

Band Fan Web App

NCSU Health Professions Advising:

Health PAC Advisor Search Module

Lexmark:

Lexmark Embedded Solutions

Undergraduate Research 1 (Lasher):

Bringing 16-bit Assembly to Modern Systems: A Web-Based Solution

Undergraduate Research 2 (Stallmann):

Galant: Graph Algorithm Animation Tool

Undergraduate Research 3 (Fornaro):

Virtual Whiteboards

Bronto:

BroBot: Automation for Testing Automation

Duke Energy:

Energy Efficiency Application

Fujitsu America, Inc.:

A Mapping & Translation Tool

I-Cubed:

Smart Search

InspectionXpert:

Automated Document Inspection

SAS:

SAS Theme Designer

Teradata:

Teradata Aster - Automated Data Analysis

Undergraduate Research 4 (Young):

CSI:NCSU - Crime Scene Investigation Through Games Technology

Allied Telesis:

Home Device Management

EMC:

Data Retrieval Performance Analysis

Extron:

DASH: Adaptive Video Streaming

Fidelity Investments:

iTestExecutor

Iron Data:

Iron Calendar

NetApp 1:

Flash Accel Prediction Tool

NetApp 2:

Zapish!

Werum:

Contract Management System (CoMS)
The media is welcome to this event.
Senior Design Center contacts:
Media & Corporate Partnership contact:
~coates~
Return To News Homepage