CSC News
April 10, 2013
Xie to Present Pex4Fun at Google Test Automation Conference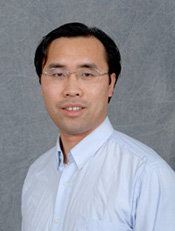 A presentation by Dr. Tao Xie, associate professor of computer science at NC State University, has been accepted by the Google Test Automation Conference (GTAC) to be held on April 23-24 in New York.
Xie's 45 minute presentation "Testing for Educational Gaming and Educational Gaming for Testing" is part of the two-day GTAC 2013 program that includes only eight 45-minute presentations, and three 45-minute keynotes. Xie's talk is one of the only two 45-minute presentations given by university researchers.
Talk Abstract
: This talk presents Pex4Fun (http://www.pexforfun.com/), which leverages automated test generation to underpin automatic grading in an online programming system that can scale to hundreds of thousands of users. It provides a programming-oriented gaming experience outside of the classroom, training users to learn various programming and software engineering skills, including testing skills such as writing parameterized unit tests. Pex4Fun makes a significant contribution to the known problem of assignment grading, as well as providing a fun learning experience based on interactive gaming. Pex4Fun has been gaining high popularity in the community: since it was released to the public in June 2010, the number of clicks of the "Ask Pex!" button (indicating the attempts made by users to solve games at Pex4Fun) has reached over one million as of early 2013.
GTAC brings together engineers from many organizations to discuss test automation. It is a great opportunity to present, learn and challenge modern testing technologies and strategies. For more information, click here.
Return To News Homepage