CSC News
April 05, 2013
Whitmire Receives Goldwater Scholarship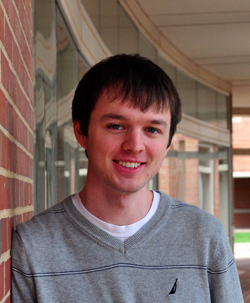 Congratulations to Eric Whitmire, a junior at NC State majoring in Computer Science and Biomedical Engineering, on receiving a Barry Goldwater Scholarship. Whitmire is a Park Scholar and a member of the University Scholars Program. He has engaged in undergraduate research with Drs. Donald Bitzer and Emmanuel Awumey, and has continued his research activities under the direction of Dr. Alper Bozkurt.
The Barry M. Goldwater Scholarship and Excellence in Education Foundation awarded 271 scholarships for the 2013-2014 academic year to undergraduate sophomores and juniors from the United States.
The Goldwater Scholars were selected on the basis of academic merit from a field of 1,107 mathematics, science, and engineering students who were nominated by the faculties of colleges and universities nationwide. One hundred seventy-six of the Scholars are men, 95 are women, and virtually all intend to obtain a Ph.D. as their degree objective. Twenty-seven Scholars are mathematics majors, 159 are science and related majors, 71 are majoring in engineering, and 14 are computer science majors. Many of the Scholars have dual majors in a variety of mathematics, science, engineering, and computer disciplines.
The one and two year scholarships will cover the cost of tuition, fees, books, and room and board up to a maximum of $7,500 per year.
Goldwater Scholars have very impressive academic qualifications that have garnered the attention of prestigious post-graduate fellowship programs. Recent Goldwater Scholars have been awarded 80 Rhodes Scholarships, 118 Marshall Awards, 110 Churchill Scholarships and numerous other distinguished fellowships.
The Goldwater Foundation is a federally endowed agency established by Public Law 99-661 on November 14, 1986. The Scholarship Program honoring Senator Barry Goldwater was designed to foster and encourage outstanding students to pursue careers in the fields of mathematics, the natural sciences, and engineering. The Goldwater Scholarship is the premier undergraduate award of its type in these fields.
Since its first award in 1989, the Foundation has bestowed over 6,550 scholarships worth approximately 40 million dollars. The Trustees plan to award about three hundred scholarships for the 2014–2015 academic year.
Whitmire is one of three NC State students to receive Goldwater Scholarships for 2013-2014. Other recipients include Morgan Carter, a junior Biochemistry major, and Cody Melton, a junior Physics and Applied Mathematics major. The total number of Goldwater Scholarships awarded to NC State students now totals 43.
For more information on the Goldwater Scholarship, please click here.
Return To News Homepage