CSC News
April 01, 2013
Domínguez Winner of a 2013 NC State UGSA Outstanding TA Award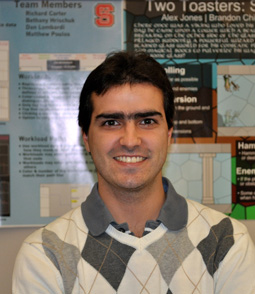 Ignacio Do
mínguez
,
PhD student and teaching assistant (TA) for the Computer Science Senior Design Course (CSC 492), was recently awarded a 2013 NC State University Graduate Student Association (UGSA) Outstanding TA Award.
Only 15 TAs (out of 79 nominees campus-wide) were recognized with this award at an event on Monday, March 18, 2013.
Other nominees from the Computer Science Department included: David Cornejo, Lucia Gjeltema, Jitendra Harlalka, Da Young Lee, Barry Peddycord, Yang Song and Jawahar Tadipatri.
For the past four semesters (Fall 2011, Spring 2012, Fall 2012, and Spring 2013), Dom
í
nguez has been an integral member of the Senior Design instruction team. During this time, the enrollment has ranged from 45 students (13 teams/unique projects) to the current enrollment of 101 students (25 teams/unique projects). Margaret Heil, Interim Director of the Senior Design Center, comments, "we have had to accommodate the growth in our enrollment in various ways and without Ignacio, it is not clear that we would have made this transition as smoothly as we have."
Students in Senior Design are required to participate in an industry-sponsored project; each student becomes a member of a team and is expected to contribute to the design, implementation and documentation of a project, and to make at least one technical oral presentation. This project course is extremely complex – an enormous amount of effort is required from the students. In order to provide a comprehensive and positive experience in the class, it is necessary for the team of instructors (including TAs) to respond to students with one voice.
Dom
í
nguez's
major role as TA in CSC Senior Design has been one of Software Testing Manager. He works with each of the many student teams to help them create customized test plans for their developed systems and over the years, he has also trained other TAs to do the same. At the beginning of the semester,
Dom
í
nguez
delivers a presentation on testing expectations, and throughout the semester, he reviews student team test plans (in both written documents and formal presentations) and provides feedback, evaluation and grades. During team work days, he informally reviews students' work on requirements exploration and related tests. He is the Senior Design software testing master!
Since
Dom
í
nguez
has been a member of the Senior Design instruction team for an extended time, he has come to understand the intricate details of the Senior Design process. Instructors provide feedback to student teams on rough drafts of written and oral work. With the increasing number of students, these tasks were becoming more than challenging.
Dom
í
nguez
developed an electronic submission system for Senior Design that allows each instructor to easily view feedback from other instructors and add additional feedback, as appropriate. The system allows the administrators to upload commented documents/presentations and notify students that comments are available for review.
Dom
í
nguez
worked with each instructor to understand the requirements of this system and to implement features to their specifications. This submission system has significantly improved the workflow process in Senior Design and it appropriately accommodates the surge in enrollment.
How were we so lucky to find
Dom
í
nguez
? Well, actually, he found us! Since 2007, the NC State Computer Science Department has hosted teams of undergraduate students from the Universidad Católica Andres Bello (UCAB), Caracas Venezuela, for a two-week Summer Practicum with Dr. Robert Fornaro at the helm. During the practicum, the students attended lectures and lab sessions every day with a focus on software development for wireless sensor systems. In July 2008,
Dom
í
nguez
came to NC State for the first time with his fellow undergraduates from UCAB to attend this Summer Practicum. "Soon after getting to know Ignacio," says Dr. Fornaro, "we immediately recognized him as top notch in all ways – academically and personally – and we were extremely pleased when he later expressed interest in applying to NC State for his graduate studies."
Dom
í
nguez
came to Raleigh for another visit in 2009 to explore graduate studies at NC State, and then in January 2011, he and his wife, Desiree, moved to North Carolina so he could begin his PhD work here in our Department.
"Ignacio is an essential member of our team who is committed to our common purpose of providing students with a meaningful transition from the academic environment to the 'real world,'" states Margaret Heil, "and he is highly deserving of this NCSU UGSA Outstanding TA Award – we are extremely proud of him. Bravo, Ignacio!"
~heil~
Return To News Homepage