CSC News
April 09, 2013
Fornaro Receives IEEE Undergraduate Teaching Award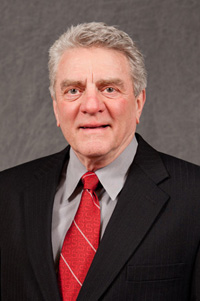 Congratulations to Dr. Robert Fornaro, professor of computer science at NC State, who has been selected to receive the 2013 Computer Science and Engineering Undergraduate Teaching Award from the Institute of Electrical and Electronics Engineers (IEEE) Computer Society. He was selected "for outstanding teaching and mentoring of undergraduate students in award-winning engineering projects."
The award recognizes outstanding contributions to undergraduate education through both teaching and services. The award is intended to highlight the Computer Society's commitment to undergraduate education, as well as affirm its support for excellence in undergraduate education.
Fornaro joined the NC State Computer Science Department in 1969 as one of its first Ph.Ds. He recently announced plans to enter phased retirement after serving as the Director of the NC State Computer Science Senior Design Center since 1994. He developed the Center from its beginnings as an elective for students to complement their technical abilities by developing skills in teamwork, writing and speaking, to where it is today – a required part of the undergraduate curriculum for all computer science students. Three of the senior design teams advised and mentored by Fornaro went on to win international accolades for their efforts, including two first place finishes and one third place finish in the IEEE Computer Society International Design Competition (CSIDC). This was the first and only time in the history of CSIDC that students from any university in the world placed first in the competition in two consecutive years.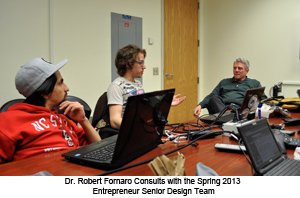 Fornaro's efforts in advising and mentoring have also had international influence. For six years, the NC State Computer Science Department has hosted teams of undergraduate students from the Universidad Católica Andres Bello (UCAB), Caracas Venezuela, for a two-week summer practicum directed by Fornaro. During the practicum, the students attended lectures and lab sessions every day with a focus on software development for wireless sensor systems. Some of the student participants have since become graduate students at NC State.
Fornaro received his B.A in mathematics from St. Vincent College in Latrobe, PA, and his M.A. in mathematics (1965) and Ph.D. in computer science (1969) from Penn State, and joined the NC State Computer Science Department that same year. In addition to teaching, Fornaro has also been involved in a variety of research projects involving real time operating systems, data communications and system design. He also served for 11 years as Director of Undergraduate Programs. In 2008, Fornaro was named by NC State an Outstanding Teacher for 2007-08, and he was chosen as the recipient of an Alumni Outstanding Teacher Award.
The Computer Society will present Fornaro's award at a dinner and ceremony on June 12, 2013 in Seattle, WA. The award consists of a $2,000 stipend, a plaque and a certificate.
For more information on the IEEE Computer Society Awards, click here.
Return To News Homepage