CSC News
March 21, 2013
Lester Named Distinguished Professor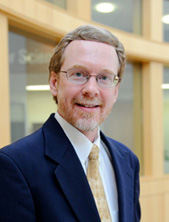 We are pleased to announce that Dr. James C. Lester has been named Distinguished Professor in Computer Science at NC State University.

Dr. Lester's research focuses on transforming education with technology-rich learning environments. Utilizing artificial intelligence, game technologies, and computational linguistics, he designs, develops, and evaluates next-generation learning technologies.
Dr. Lester's research on personalized learning ranges from game-based learning environments and intelligent tutoring systems to affective computing and natural language tutorial dialogue. With the support of the National Science Foundation, the Bill & Melinda Gates Foundation, the William & Flora Hewlett Foundation, EDUCAUSE, and the U.S. Army Research Laboratory, Dr. Lester leads multidisciplinary R&D projects on intelligent learning environments that integrate AI with commercial game technologies for K-12 science, literacy, and computer science education, and serious games for training.
With its home in the College of Engineering, his laboratory collaborates closely with faculty from NC State's Friday Institute for Educational Information, College of Education, and College of Design. They are engaged in a variety of projects that span laboratory research on emerging technologies to large-scale deployments for thousands of students in K-12 classrooms.
Dr. Lester joined the faculty of the Department of Computer Science in 1994. A member of Phi Beta Kappa and the North Carolina State University Academy of Outstanding Teachers, he has been recognized with an NSF CAREER Award and Best Paper Awards at conferences on artificial intelligence in education, intelligent user interfaces, and artificial intelligence for digital games. He is Director of NC State's new Center for Educational Informatics.
For more information about Dr. Lester,
click here
.
Return To News Homepage