CSC News
March 20, 2013
St. Amant Named 2013 Outstanding Teacher for College of Engineering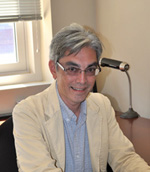 Congratulations to Dr. Robert St. Amant, associate professor of computer science at NC State University, for receiving the 2013 Outstanding Teacher of the Year Award from the College of Engineering. St. Amant is being recognized by his peers and his students for his commitment to creative and innovative teaching and learning practices.
St. Amant and other Outstanding Teacher Award recipients will be honored at an awards luncheon and ceremony at the McKimmon Center on April 11, 2013. Recipients of the Board of Governor's Award for Excellence in Teaching, and the Alumni Distinguished Undergraduate Professor Award will also be recognized.
For more information on Dr. St. Amant, click here.
Return To News Homepage