CSC News
January 25, 2013
Boyce to Present at Carolina Games Summit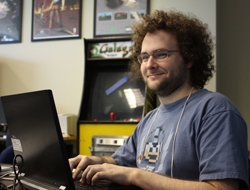 Acey Boyce, a PhD student in the NC State Department of Computer Science, will present a talk on February 2nd at 2 p.m. at the Carolina Games Summit, an event which is held annually at Wayne Community College in Goldsboro, NC. The event unites game developers, game educators, and game players, and features video game tournaments, industry speakers, educational sessions, and exhibition booths.
Several others from NC State, including computer science faculty members Drs. Tiffany Barnes, David Roberts and R. Michael Young, and Mr. Tim Buie from the College of Design, will also be participating in the event.
In his talk, "Serious Games: Making Real Life More Fun," Boyce reports on over seven years of real work experience making games for education at both NC State and UNC Charlotte.
Game technologies help people practice new skills, from flying planes to learning math, and can also encourage better behavior, choices, and attitudes - from quitting smoking to making new professional connections. In this presentation, Boyce will talk about recent developments in serious games research, revealing the elements that encourage better learning and user generated content creation in his Bead Loom Game. Bead Loom Game is a game developed to teach middle school mathematics within the context of creating bead loom art. Students design and share bead art with one another while learning how to graph points and shapes, and solve challenging puzzles of how to minimize the number of shapes they create to make their designs. Bead Loom Game has been used in summer camps for middle and high school students to research how the addition of game elements including in-game tutorials, leaderboards, and user design showcases, can encourage greatly increased play and learning.
The unifying aspect of the Carolina Games Summit is its dedication to informing the public that simulation and game design is a viable career choice for today's youth. "Visitors can experience presentations from industry visionaries, plan for a future in the game development field, and enjoy fiercely competitive tournaments all at one event." Said Michael Everett, Creative Director of the Carolina Games Summit. Prospective attendees can register online now at www.CarolinaGamesSummit.com. The $10 registration fee includes full access to all the speakers, exhibitors, tournaments and excitement Carolina Games Summit has to offer.
For more information about and directions to Wayne Community College, click here.
Return To News Homepage