CSC News
December 03, 2012
NC State vs UNC in "Call of Duty: Black Ops II" GeForce Rivalries Competition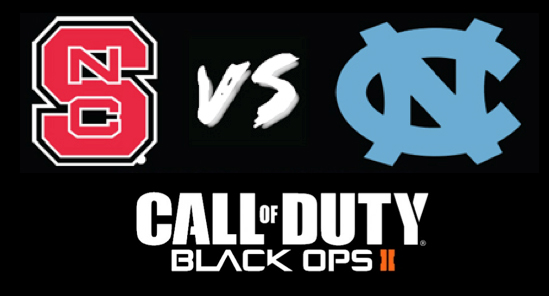 Mark your calendars for Thursday, December 6, 2012 -- NC State and UNC will renew its rivalry – this time on a video game platform! And we have the home field advantage! Come to the Talley Student Center at NC State University at 7 p.m. to cheer on our Call of Duty Black Ops II team as they take on arch-rivals UNC in this high-energy event! The Ballroom in the Talley Student Center will be transformed into Gaming Central and spectators will be treated to great food and entertainment. This is a once-in-a-lifetime opportunity to see a major gaming competition for free… don't miss it!
For more information and directions, visit the event page on the Computer Science Department's Facebook page.
More information about the competition:
NVIDIA
, an American global technology company which is best known for its graphics processing units (GPUs), today celebrated the launch of one of the most anticipated PC games of the holiday season – Activision's Call of Duty: Black Ops II – with the first-ever "GeForce GTX Call of Duty Rivalries" competition, which pits top colleges against each other in an epic showdown of gaming glory.
The Call of Duty franchise first began on the PC in 2003 and has been one of the most popular/top-selling games ever since. Black Ops II builds on its award-winning gameplay and stunning graphics by being the first in the series to be powered by DX11. It also comes packed with other advanced visual features that differentiate the PC version, such as ambient occlusion, depth-of-field and NVIDIA's exclusive anti-aliasing technology, TXAA.
The first round of "GeForce GTX Call of Duty Rivalries" includes three famous college rivalries – the University of California, Berkeley (Cal) vs. Stanford University; the University of Southern California (USC) vs. the University of California, Los Angeles (UCLA) and NC State vs. the University of North Carolina, Chapel Hill (UNC) – to battle in four-person, last team standing matches. Two additional wildcard colleges (selected from any accredited college in the United States) will be chosen by the community to field teams.
Students can nominate and vote for their schools to be wildcard competitors – and determine home field advantage for all the participating schools – by visiting NVIDIA's Facebook page. Voting for the wildcards started Nov. 20.
The winners from the first round and two wildcard teams will be flown to NVIDIA headquarters in Santa Clara, Calif., to face off in a grand final and a chance to win a complete Maingear system equipped with NVIDIA GeForce GTX 680 GPUs.
The schedule for the GeForce GTX Call of Duty College Rivalries competition is as follows:
1/19: Wildcard and Championship bracket matches.
Return To News Homepage