CSC News
November 16, 2012
Senior Design Center's "Posters & Pies" to be held on November 30th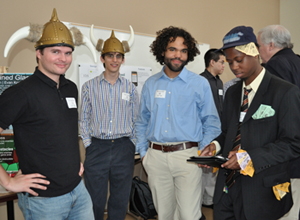 The public is cordially invited to attend the NC State Department of Computer Science Senior Design Center "Posters & Pies" event on Friday, November 30, from 10:40 am - 1:00 pm.
Project presentations will be held 10:40 am - 11:30 am in Engineering Building 2 (EB2) room 1025 on NC State's award-winning Centennial Campus. Posters and demonstrations will be displayed 11:30 am - 1:00 pm in rooms 3001 & 3002 in EB2. Lunch (pizzas and dessert pies) will be provided. The event is sponsored by Super ePartners, NetApp & Progress Energy.
This semester, the sponsors and projects are as follows:
Bandwidth

– VolP Call Probe Manager

Bronto Software

– Big D.I.N.O. – Big Data into Normalized Output

Cisco

– Distributed Software-Defined Network – Floodlight with Cassandra

Deutsche Bank Global Technology

– Sharing Visualizations of Financial Data 1.0

Duke Energy

– Customer Energy Usage Application

Entrepreneurs

– ChroalanTM

Fidelity Investments

– Lumberjack

Fujitsu America

– Code Generation Extension

I-Cubed

– Obeya Room for Manufacturing

CSU Health Professions Advising

– FolioFiler – Portfolio Advising Tool

NetApp

– Flash Accel Performance Prediction Tool

Prometheus Group I

– Web Key Performance Indicators

Prometheus Group II

– MWOE – Mobile Work Order Execution

SAS

– Dual Selector

Tekelec

– Optimizing Test Automation with a Dashboard

Teradata

– LOBOR – Location-Based Offers in Real Time

Undergraduate Research

– Afterthought in Retrospect

WebAssign

– WAVE – WebAssign Visualization Environment

Werum

– PAS-X Finite State Machine Manager
The media is welcome to this event.
Senior Design Center contacts:
Media & Corporate Partnership contact:
~coates~
Return To News Homepage