CSC News
November 16, 2012
Up, Up & Away!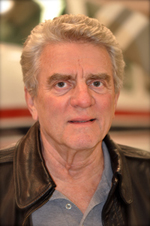 After 42 years as a professor, program director and a key linchpin in the development of the North Carolina State University computer science curriculum, Dr. Robert J. Fornaro,has been looking for a reason to fly more often. He will surely get that chance as he recently announced his intention to enter phased-retirement.
Having served as the Director of the Senior Design Center since 1994, Fornaro developed the Center from its beginnings as an elective for students to complement their technical abilities by developing skills in teamwork and writing and speaking, to where it is today - a required part of the undergraduate curriculum for all computer science students.
Dr. Fornaro received his B.A. in mathematics from St. Vincent College, Latrobe, PA and his M.A. in mathematics (1965) and Ph.D. in computer science (1969) from Penn State. He joined the NC State computer science department in 1969 as one of its first Ph.Ds. In addition to teaching, Fornaro has also been involved in a variety of research projects involving real time operating systems, data communications and system design. He also served for 11 years as Director of Undergraduate Programs. In 2008, Fornaro was named by NC State an Outstanding Teacher for 2007-08, and he was chosen as the recipient of an Alumni Outstanding Teacher Award.
"In 1969, computer science was a relatively new academic discipline. In fact, I was the second person to graduate from Penn State with a Ph.D. in computer science," Fornaro said. "At that time there were relatively few academic positions open in computer science, but it seemed to me that NC State was heading in the right direction. The Research Triangle Park, the existence of the Triangle Universities Computation Center (the state of the computing art at that time), and a new program in computer science, all combined to convince me that NCSU was a good place to be. Curiously, and quite independently, Alan Tharp had apparently come to the same conclusion. We joined the department within weeks of one another.
Despite their humble beginnings in a small department of six faculty members, Fornaro, Tharp and others grew the department into the nationally renowned program it is today. Along that path to success, Fornaro has played many roles.
"I taught many courses in the curriculum: introductory programming, discrete math, operating systems, and data communications," he said. "During those first few years, teaching loads were very high. We soon discovered that our mission at NC State was concentrated on undergraduate teaching. The promised graduate program was not in place, obviously a severe impediment to research interests of new faculty."
Fornaro and Tharp had to be creative in their efforts and had to hunt for research opportunities with other university departments. The path Tharp chose eventually led him to Head of the Department. The area of computing that captured Fornaro's interest was operating systems. He partnered with the College of Engineering and spent several years developing a data acquisition project. His efforts in this area led to the development of several courses that became part of the computer science graduate program curriculum, one on Real-Time Systems, one on Data Communications. Other areas to which Fornaro lent his expertise included the development of digital terrain models for a military installation in Rome, New York, as well as the creation of possibly the first multi-core processor in his collaboration to develop real time precise computer control for the university's Precision Engineering Center.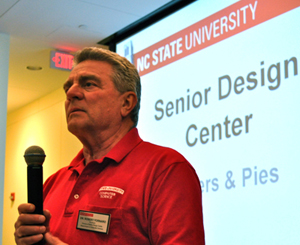 In 1994, Dr. Tharp, then Head of the Department, presented an idea to Fornaro that led to another significant career accomplishment – the development of the Senior Design Center. "Perhaps one the most exciting ideas that Alan and I had together was the inception of the Senior Design Center -- something we considered an outstanding opportunity to develop relationships between our students and industrial partners in RTP. The area was a very rich arena for providing a transition for graduating seniors from the academic world to real life. If, under academic auspices, students could work with a company, solve a specific problem for them, demonstrate its solution and write and make oral presentations about the process, the idea was that the experience would add value to their education," Fornaro said. "The typical stereotype of a computer science graduate was that of someone who didn't have a lot of people skills and just wanted to be left alone to hack code. We wanted to make sure our students could communicate effectively both inside and outside of the academic setting."
Fornaro literally remembers "knocking on doors and cobbling together a program" in the early days, but his tenacity has led to being recognized as the first program in the world to be a two-time first place winner in the IEEE Computer Society International Design Competition. In addition to that distinction, Fornaro's students have worked with some of the top businesses in the country, with financial supporters donating in excess of one million dollars to the program.
"The program is the best of its kind in the country," Fornaro said. "In fact, during last year's (ABET) accreditation, the visiting accreditation team registered some very strong supportive comments about the quality of this program. We are so far ahead of the pack that we are actually involved in a National Science Foundation grant to collaborate with other universities to find ways to incorporate teamwork, writing, and speaking throughout the computer science curriculum."
With such a rich life in the area of computer science, what does Fornaro envision his retirement to look like?
"I've really been far too busy to give much thought to retirement," he said. "I'm certainly looking forward to spending more time with my four grandchildren! I'm a pilot and I own an airplane, so I'm looking for ways to fly for a better reason than to just bore holes in the sky. I'm thinking about volunteering with Angel Flight (fly needy patients for medical care who otherwise couldn't afford to travel) or Pilots-n-Paws (fly shelter pets to new homes)."
In addition, Fornaro owns a farm and is trying his hand at growing hay. But, just like most computer science professors, even in his rural setting, his mind never strays far from his field.
"I'm actually collaborating with the vet school right now on ways to track animals using technologies other than GPS," he said. "We are researching the use of smart dust. Computers and communications systems have become small and cheap enough that they can be sprinkled around to tell you more about your environment."
In more than 40 years, Dr. Robert Fornaro has gone from working in computing centers when boxes of punched cards represented programming technology, to the point today that computer processing can now, literally, be "sprinkled." Congratulations to Dr. Fornaro on such a successful and impactful career at NC State University and best wishes to him on his future endeavors!
Return To News Homepage