CSC News
October 25, 2012
Young and Buie Named 2012 NC State Libraries Faculty Award Winners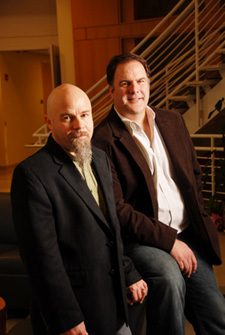 Dr. R. Michael Young (pictured at right in photo), Professor in the Computer Science Department, and Mr. Tim Buie, Associate Professor in the Department of Graphic and Industrial Design at NC State University, have been named the 2012 NC State Libraries Faculty Award Winners.
The annual award is given to NC State faculty members who have contributed consistently and notably to the Libraries' mission, vision, and strategic initiatives. The award, established in commemoration of the library's centennial year in 1989, enables the library to recognize faculty contributions.
This is the second year in a row that a faculty member from the Computer Science Department has been recognized. In 2011, Dr. Douglas Reeves, Director of Computer Science Graduate Programs and Professor of Computer Science and Electrical and Computer Engineering at NC State, was the recipient.
Last semester, Young, and Buie (along with Scott Townsend from the College of Design) partnered with the NCSU Libraries to enable their advanced graphic design, industrial design, and computer game development students to work together to simulate the complex process of creating games in a real-world commercial environment. The students developed a game called NOL, a collaborative pursuit game designed to use real-time data delivered from the NCSU Libraries' catalog to allow a group of players to work together to guard the Vault of Knowledge, the mystical storage site in which the collected wisdom and secrets gained from the innate human capacity for curiosity and thirst for understanding are under attack.
The game was played on a prototype of a 21-foot-wide, high-definition video wall that will be the centerpiece of the James B. Hunt Jr. Library, which is still under construction.
Per their nomination letter from a faculty member, "I cannot think of another combination of colleagues who have contributed so much to the fulfillment of the Libraries' mission and the partnership between library and faculty."
For more information on the Library Faculty Awards, including a list of past recipients, please click here.
Return To News Homepage