CSC News
October 18, 2012
Zhang Receives IBM Ph.D. Watson Solutions Scholarship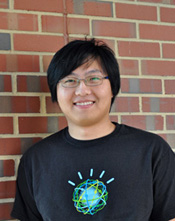 Congratulations to Zhe Zhang, a graduate student in the computer science department at NC State University, who was recently awarded a prestigious IBM Ph.D. Watson Solutions Scholarship.
The $10,000 award is to be used by Zhang for educational purposes such as, but not limited to, tuition, conference travel, etc. In order to nurture the student relationship, the IBM Ph.D. Scholarship committee has asked Robert Yates to act as Zhang's mentor and principal IBM relationship contact for the award.
Zhang is advised by Dr. Munindar Singh. Special thanks to IBM for their continued support of our department and students.
Return To News Homepage