CSC News
October 04, 2012
Ford Receives 2012 Facebook Grace Hopper Scholarship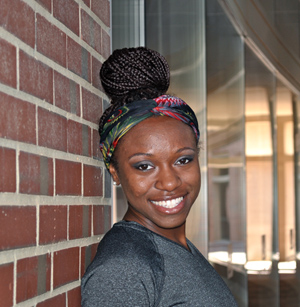 Congratulations to Denae Ford, a junior in the NC State Computer Science Department, on being one of 25 recipients worldwide of a 2012 Facebook Grace Hopper Scholarship to attend the Grace Hopper Celebration of Women in Computing Conference. In addition to attending the conference October 3-6 in Baltimore, Maryland, Ford also has the opportunity to go to Facebook's New York engineering office to meet Facebook engineers and attend tech talks.
The Facebook scholarship includes Grace Hopper Conference registration; an invitation to a private reception with Jocelyn Feinstein, Facebook's Director of Engineering, and other Facebook employees during the Grace Hopper Conference; an all-expenses-paid visit to Facebook's New York City office from Sept. 30-Oct. 2 that includes tech talks, mentoring sessions, and optional sightseeing; travel and lodging accommodations for New York and Baltimore; and a $200 food stipend.
According to Ford, "This is a great opportunity to expand my horizons; and for that I am thankful!"
The Grace Hopper Celebration of Women in Computing is a series of conferences designed to bring the research and career interests of women in computing to the forefront. Presenters at the conference are leaders in their respective fields, representing industrial, academic and government communities. Leading researchers present their current work, while special sessions focus on the role of women in today's technology fields, including computer science, information technology, research and engineering.
The Conference is presented by the Anita Borg Institute for Women and Technology and the Association for Computing Machinery.
For more information on the Grace Hopper Celebration of Women in Computing, click here.
For more information on the Facebook Grace Hopper Scholarship, click here.
~coates~
Return To News Homepage