CSC News
September 14, 2012
Envisioning Youth Empowerment (EYE) Retreat Held This Summer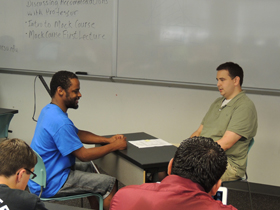 Making the transition from high school or community college to a large university like NC State can be overwhelming for some students. And the transition may be even more difficult for visually impaired students. This summer, twenty-eight visually impaired students and group leaders participated in the week long Envisioning Youth Empowerment (EYE) Retreat designed to help ease that transition.
The EYE Retreat was sponsored by the Governor Morehead School Alumni Association and directed by NC State alum, Mr. Alan Chase (M. Ed. '12). Suzanne Balik, a lecturer in the
Computer Science Department,
and
Sean Mealin
(pictured at right in photo), an
undergraduate student in the Computer Science Department,
participated in the retreat by providing the students with the opportunity to experience a mock college course complete with homework. The mock course was based upon CSC 200 –
Introduction to Computers and Their Uses
.
Accommodations are generally necessary for visually impaired students to fully participate in a college course. Discussing their accommodations with their instructors is an important part of the process. Prior to the start of the mock course, Balik and Mealin role-played this discussion by each acting as the course instructor with one of the retreat participants while the other participants offered suggestions.
This is the fourth year the EYE Retreat has been held and plans for next year's retreat will soon be underway. Involving students with disabilities in STEM disciplines is an important goal and this year's retreat helped further that goal. In the words of one retreat participant, who is interested in a dual major of computer science and physics, "The EYE Retreat was a great experience that has definitely given me information on what to do when I go on to college. I now know a bit about what to expect in a classroom setting, what disability services can provide, and techniques for college success."
For more information on the EYE Retreat, please see their website.
~balik~
Return To News Homepage