CSC News
June 20, 2012
Students in Mobile App Design Course Win at CityCamp Raleigh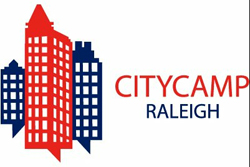 NC State professors
Ben Watson
from the Computer Science Department and
Patrick Fitzgerald
from the Department of Art and Design know that students learn more when they apply their new skills with real clients. So, they
sent students in this summer's interdisciplinary Mobile App Design course to CityCamp Raleigh. The students exceeded all expectations with one team, R Greenway, taking home the top prize and $5,000!
CityCamp Raleigh, held this year on June 1-3, is three days of open sourced talks, workshops, and hands-on problem solving, to re-imagine the way the web, applications, technology, and participation will shape the future of Raleigh. CityCamp brings together citizens, city government and businesses together to openly innovate and improve our quality of life through technology. All eight members of the Raleigh city council and Raleigh Mayor Nancy McFarlane dropped by for portions of the event.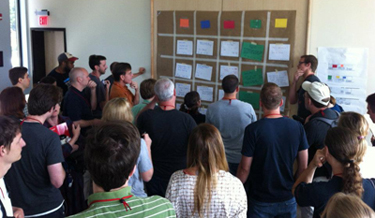 At CityCamp, participants think up ways technology can be used to improve local government. R Greenway developed a greenway mobile application that allows people to know where they are on the greenway and how to connect to other trails. The second place team, RaleighRetold, built a prototype that allows users to tell the story of their neighborhood by collecting audio, video and other multimedia.
R Greenway beat out nine other teams to take home the top prize. Several students in the computer science department participated in the event: Master's student Deepali Rai (R Greenway), senior William Dobbins (RaleighRetold, the second place team), Master's student Leonel Galan (LookingBack on Raleigh), senior Timothy Kinlaw (CitySeek Raleigh), and Master's student Jeffrey Vohlers (CitySeek Raleigh).
For more information on CityCamp Raleigh, click here.
Return To News Homepage