CSC News
June 13, 2012
Pandita Earns FDA Group Recognition Award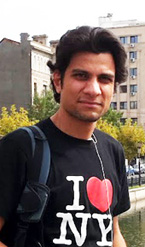 Rahul Pandita
, a PhD student in the NC State Computer Science Department, is part of the Semantic Data Mining Development Team that was recently recognized with a U.S. Food and Drug Administration (FDA) Group Recognition Award. Other team members include: Xiaofan N. Feng, Brian J. Fitzgerald, Raoul P. Jetley, Lisham N. Singh, Sithu D. Sudarsan, and Lohit N. Valleru.
The FDA Group Award, established in 1987, is an honorary award and is being presented to the Team for "exceptional innovating, planning and execution of a strategic scientific initiative toward building a semantic text mining search environment at the Food and Drug Administration and for promoting its use in clinical adverse event management."
The FDA Group Award, established in 1987, is an honorary award presented to groups of individuals. The criteria for this award are as follows: A.) Exceptional outstanding leadership that contributed to the successful accomplishment of FDA's mission or the redirection of FDA objectives; or B.) Exceptional performance which brought tribute to FDA, the Public Health Service, the Department, or the Federal Government; or C.) Significant and exceptional performance of a single, one-time achievement or service benefitting the public or resulting in major advances in an FDA program; or D.) Sustained superior performance of duties that sets an unusual record of achievement warranting special recognition; or E.) Superior performance of a special act or service in the public interest, related to employment, which far exceeds normal position requirements.
~coates~
Return To News Homepage