CSC News
August 22, 2012
Mueller Receives Support for ScalaJack Analysis Generator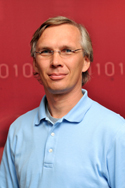 Dr. Frank Mueller, professor of computer science at NC State University, has been awarded $457,395 by the National Science Foundation (NSF) to support his research proposal titled "Scalable Trace-Based Tools for In-Situ Data Analysis of HPC Applications (ScalaJack)."
The award will run from June 1, 2012 to May 31, 2015.
Abstract
– This decade is projected to usher in the period of exascale computing with the advent of systems with more than 500 million concurrent tasks. Harnessing such hardware with coordinated computing in software poses significant challenges. Production codes tend to face
scalability problems, but current performance analysis tools seldom operate effectively beyond 10,000 cores.
We propose to combine trace analysis and in-situ data analysis techniques at runtime. Application developers thus create ultra low-overhead measurement and analysis facilities on-the-fly, customized for the performance problems of a particular application. We propose an analysis generator called ScalaJack for this purpose.
Results of this work will be contributed as open-source code to the research community and beyond as done in past projects. Pluggable, customization analysis not only allows other groups to build tools on top of our approach but to also contribute components to our framework that will be shared in a repository hosted by us.
Return To News Homepage