CSC News
May 15, 2012
Department Confers 185 Degrees During Spring Diploma Ceremony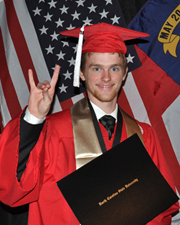 The NC State Department of Computer Science conferred 185 degrees during the Spring Diploma Ceremony on May 11, 2012. More than 1,200 relatives and guests celebrated with our graduates, faculty and staff during our ceremony held at Hope Community Church in Raleigh.
This graduating class included 4 Ph.D., 113 M.S., and 68 B.S. degrees expanding the department's alumni base to over 6,700.
The undergraduate class included five Valedictorians (perfect 4.0 GPA), James H. Creager, Patrick Jason Finegan, Albert Taylor Chase Patterson, Matthew Alexander Poulos and David Patrick White; two Park Scholars: James H. Creager and Anne M. Watson; three Computer Science Honors Program participants: Bethany Karen Hrischuk, Kunal M. Patel and Christopher Michael Thunes; three University Honors Program participants: Andrew N. Freitas, Evan William Kochuk, and Robert Hong Lampe; six University Scholars: James H. Creager, Daniel R. Lauck, Eric Brandon Lumpkin, Matthew Alexander Poulos, Anne M. Watson, and Andrew Robert Waugaman; and numerous members of a variety of scholastic honor societies. The top employers for this semester's undergraduate students are Fidelity Investments, Cisco Systems and NetApp.
Dr. Mladen Vouk
, department head, professor, and Associate Vice Provost for Information Technology, congratulated the graduates on their accomplishments. He cited recent projections of growth in career opportunities in the IT and computer science industries.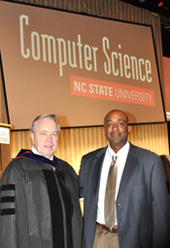 We were honored to have Donald A. Thompson, Jr., President and CEO of I-Cubed, serve as our keynote speaker. In his role at I-Cubed,
Thompson sets the strategic direction for the company as it develops and delivers a growing portfolio of enterprise software and service solutions to its global customer base. He provides leadership and mentoring while keeping the company focused on revenue generation and profitability. Donald has led I-Cubed to outstanding results with an increase in strategic partnerships and annual revenue growth of over 30% since 2008.
In addition to his role at I-Cubed, Thompson serves as chairman of the NC State Computer Science Strategic Advisory Board, and is a founding member of the James B. Hunt Library Technology Advisory Board. Thompson also serves on the Boards of Advisors for Everest Agency, mentors emerging entrepreneurs, and frequently speaks on topics related to leadership, business and personal success through his consulting practice, rookie CEO. Thompson studied Finance at East Carolina University.
Thompson congratulated the graduates on choosing a career in technology, a career path unlike others that follow a pre-determined route. He added that when you're in the technology field, you have a pre-determined path that is only shaped by what you can envision that needs to be created. He urged the graduates, as they pursue success in their professional as well as personal lives, to be clear on what is expected of them, what is expected of the team, and to be clear on what the definition of success is. He shared that the number one thing he will attribute to any success he's had as a business leader was finding a strong mentor who was willing to teach him on a broad scale the components required to build a complete business. He advised the graduates to find people in their lives, both professional and personal, that care enough to talk to them about the things they need to work on as well as cheer for them for the things they've done well. He concluded that this balance will allow each one to pursue greatness.
Hope Community Church provided a wonderful setting for the department's diploma ceremony, with comfortable accommodations and professional AV capabilities. DVDs of the ceremony are available for a nominal $25 processing fee (click here for order form). Additionally, a professional photographer took photos of each graduate as he/she received his/her diploma. For more information, please contact the photographer here or call
1-800-722-7033
.
Finally, we invite you to help us build the engineering "pathway to the future" by laying a personalized brick in honor of your graduation for the Engineering Building II (EB2) walkway. Each brick is $150, will hold three lines of text with up to 18 characters per line. Bricks will be installed in front of EB2 where they will become a permanent part of our history. To order your commemorative brick, please click here.
Our special thanks go to AT&T, the NC State Engineering Foundation, and our ePartners Program for their generous sponsorship of this event.
Return To News Homepage