CSC News
May 15, 2012
2012 Outstanding Computer Science Seniors Recognized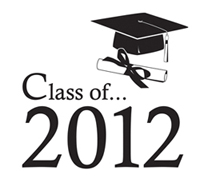 Each year, the NC State College of Engineering recognizes students for their outstanding performance beyond academic achievement with Outstanding Senior Awards. Winners of the 2012 Computer Science Outstanding Senior Awards are:
Daniel Lauck
- the Leadership Award. Daniel, the recipient of an Engineering Merit Scholarship, double-majored in Computer Science and Applied Mathematics. He has been an active member of the NC State Chapter of the Association for Computing Machinery/Association of Information Technology Professionals since 2007. He has held numerous leadership positions on the Chapter's Executive Board including secretary, vice president, president, and past president/student advisor. Daniel has been the President of STARS, and has also taken on a number of leadership roles on the Inter-Residence Council, serving as Wolf Village Representative, Vice President of Finance, and Vice President of Hall Council Affairs. Additionally, Daniel participates in the NC State Marching Band as Cymbal Captain.
Matthew "Alex" Poulos
- the Humanities Award. Alex maintained a perfect 4.00 GPA, and completed requirements for a minor in French. He is largely self-taught in Greek and Latin, and is an accomplished and funded undergraduate researcher in digital textual analysis. Alex has combined his passion for the study of the classics and the Bible with his Computer Science studies to expand his knowledge in both fields. Alex completed the University Scholars Program, and is the recipient of multiple scholarships including the Dr. K.C. Tai Memorial Scholarship, the Katherine Stinson Scholarship, a Braintrack Computer Science Scholarship, and the Chic-Fil-A Employee Scholarship. This fall, Alex will begin graduate study at the Catholic University of America in Washington, DC in their Greek and Latin program on a full scholarship with stipend.
Anne Watson
- the Scholarly Achievement Award. Anne displayed a high academic standing in Computer Science as well as her other subject areas, including a second major in Physics and minors in Cognitive Science and International Studies. A Park Scholar, Anne is a member of Phi Beta Kappa, Sigma Pi Sigma, and the society of Physics Students. She also completed the University Scholars Program and the Physics Honors Program. In addition to her accomplishments in academia, Anne has found time to be an active member of the University and global community. She is a student leader in the STARS (Students and Technology in Academia, Research, and Service) Leadership Corps, and a mentor in their Centennial Campus Middle School Outreach Program. She is also a Bible study leader in The Navigators at NC State. Each summer Anne spends two weeks at various locations in China where she is part of a group that teaches English to high school aged students.
Congratulations to these outstanding students! We take great pride in them as they serve as tremendous representatives of the department and great role models for our student body.
~coates~
Return To News Homepage