CSC News
May 07, 2012
White House Honors Sina Bahram as a "Champion of Change"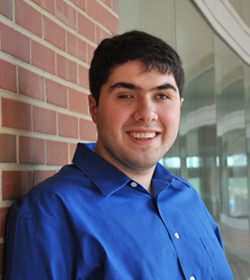 President Barack Obama recognized North Carolina State University student Sina Bahram as one of 14 "Champions of Change" at a White House ceremony May 7, honoring those who have made significant efforts to make science, technology, engineering and mathematics (STEM) more accessible to people with disabilities.
Bahram, who earned his undergraduate and master's degrees from NC State, is currently a Ph.D. student in computer science. His research focuses on improving the interaction between users and technology. This field of study is of particular importance to Bahram, who is blind.
"The leaders we've selected as Champions of Change are proving that when the playing field is level, people with disabilities can excel in STEM, develop new products, create scientific inventions, open successful businesses, and contribute equally to the economic and educational future of our country," says Kareem Dale, Special Assistant to the President for Disability Policy.
"My goals are to use technology to facilitate access to all kinds of information for users with various functional limitations or specific needs," Bahram says. "Whether that's allowing blind users to understand and interact with maps, flow charts, bar charts or graphs, or helping webpages become more accessible by providing content creators with the ability to check them against an automated system."
Bahram has already developed a prototype system called Touch It, Key It, Speak It (TIKISI), which allows computer users to access graphical information in an "eyes free" fashion. TIKISI can already be used to help blind users interact with Google Maps, and Bahram is working with other researchers to apply it to other materials, such as flow charts.
"When I was a child I made a conscious decision to have a positive outlook on life," Bahram says. "That attitude has served me well. And when I began working on my Ph.D., I realized I had an opportunity to affect the kinds of changes I wished existed when I was younger and struggling to learn STEM topics. With TIKISI, I'm hoping to give low-income and under-privileged people access to these educational tools. This technology works with a smart phone or a tablet – you don't need expensive, proprietary technologies that can be an obstacle for the disadvantaged."
Bahram attributes his success, in part, to the support he's received at NC State. "I have had some absolutely amazing professors," Bahram says. "I had a chemistry professor, Dr. [Lori] Petrovich, who would work with me after class every day, bringing in stones and other items from her garden, just to lay out electron diagrams and orbital graphs. She would literally reteach the lecture she had just given, with hands-on examples so that I could follow what was going on. The amazing part of this is that she wasn't the only one. Other professors would read me the exams themselves, make models, or spend countless hours outside of class. It also should be mentioned that every professor in the computer science department has been truly excellent."
"I wouldn't choose to be part of any other university."
For more information:
White House 'Champions of Change' winners site -
click here
Sina Bahram's 'Champions of Change' blog entry -
click here
YouTube Video of the 'Champions of Change' event and panel discussions -
click here
-shipman-
Return To News Homepage