CSC News
May 03, 2012
Best Paper Award Presented at WiSec 2012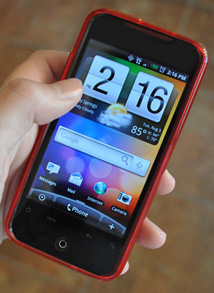 Congratulations to PhD students Michael Grace and Wu Zhou, and Dr. Xuxian Jiang, associate professor of computer science in the NC State Department of Computer Science, and Ahmad-Reza Sadeghi, professor at the Technical University Darmstadt in Darmstadt, Germany, for winning the Best Paper Award at the 5th ACM Conference on Security and Privacy in Wireless and Mobile Networks (WiSec 2012) held in Tucson, AZ on April 16-18, 2012.
The winning paper, titled "Unsafe Exposure Analysis of Mobile In-App Advertisements," reports on the explosive growth in smartphone sales, which is accompanied with the availability of a huge number of smartphone applications (apps). In this paper, the authors focused on the potential privacy and security risks posed by downloading these apps, as many app developers incorporate an advertisement library (also known as an ad library) in their apps. The authors focused on the Android platform to determine what risks the popular ad libraries may pose to the users' privacy and security. To read the award-winning paper, click here.
About WiSec 2012
: As wireless and mobile networking becomes ubiquitous, security and privacy become increasingly critical. The focus of the ACM WiSec is on exploring vulnerabilities, threats, and attacks in wireless communications and the techniques needed to address them. Settings of interest include cellular, metropolitan, mesh, local-area, personal-area, home vehicular, sensor, ad hoc, satellite, cognitive radio, RFID, and underwater networks as well as systems using non-RF wireless communication. For more information on the WiSec 2012 conference, click here.
~coates~
Return To News Homepage