CSC News
April 25, 2012
Thompson to Speak at Spring 2012 Diploma Ceremony on May 11th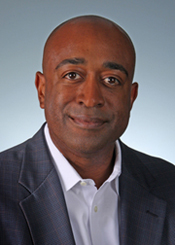 The NC State University Computer Science Department will hold its spring diploma ceremony on Friday, May 11 at 7 p.m. in the main sanctuary at Hope Community Church, located at 821 Buck Jones Road, Raleigh (directions).
Donald A. Thompson, Jr.
, President and CEO of I-Cubed, will provide the keynote address. In his role at I-Cubed, Thompson sets the strategic direction for the company as it develops and delivers a growing portfolio of enterprise software and service solutions to its global customer base. He provides leadership and mentoring while keeping the company focused on revenue generation and profitability. Donald has led I-Cubed to outstanding results with an increase in strategic partnerships and annual revenue growth of over 30% since 2008.
During his tenure with I-Cubed, Thompson has help leadership positions in sales and partner relations, as well as the role of Vice President of Business Development. While in this role, Thompson expanded the company partnership with Adobe Systems and provided support to former I-Cubed CEO and founder, Grant Williard. Thompson was later involved in the asset transaction of I-Cubed's Digital Rights Management technology with Adobe. He also oversaw I-Cubed's ownership transition in 2005, transforming I-Cubed into an employee-owned company without the need for outside capital.
In addition to his role at I-Cubed, Thompson serves as chairman of the NC State Computer Science Strategic Advisory Board, and is a founding member of the James B. Hunt Library Technology Advisory Board. Thompson also serves on the Boards of Advisors for Everest Agency, mentors emerging entrepreneurs, and frequently speaks on topics related to leadership, business and personal success through his consulting practice, rookie CEO. Thompson studied Finance at East Carolina University.
Approximately 200 graduates are expected to receive their degrees during the May 11th ceremony.
Our special thanks go to AT&T, the NC State Engineering Foundation, and the ePartners Program for their generous sponsorship of this event.
For the convenience of guests who might require overnight accommodations, there are a number of hotels located in the immediate area. For more information, click here.
NOTE TO GRADUATES
:
For the benefit of relatives and friends who may not be able to attend the event in person, we are pleased to announce that the event will be available online via live video streaming at http://go.ncsu.edu/csc-diploma. The video will be available for playback at the same site for approximately two weeks after the event. Firefox, Internet Explorer and Safari are recommended for viewing the live streaming of the ceremony. To verify that your computer meets the minimum requirements for smooth streaming, please visit this site:
http://www.sonicfoundry.com/site-requirements
.
In compliance with the Americans with Disabilities Act, NC State will honor requests for reasonable accommodations made by individuals with disabilities. Requests can be served more effectively if notice is provided at least 10 days before the event. Direct accommodation requests to Tammy Coates at
tscoates@ncsu.edu
. (NOTE: As of May 25, 2012, the video streaming is no longer available online.)
There are several ways to commemorate this special occasion. As each graduate is handed his/her diploma, a professional photographer will take his/her picture. A free color proof will be sent to each graduate's current mailing address, including a password for online viewing. There is no obligation to purchase prints. To receive email notification when photos are online, please visit www.photospecialties.com to pre-register. If a proof is not received within a week of the ceremony, please contact info@photospecialties.com or call 1-800-722-7033.
Finally, we invite you to help us build the engineering "pathway to the future" by laying a personalized brick in honor of your graduation for the Engineering Building II (EB2) walkway. Each brick is $150, will hold three lines of text with up to 18 characters per line. Bricks will be installed in front of EB2 where they will become a permanent part of our history. To order your commemorative brick, please click here.
Return To News Homepage