CSC News
April 17, 2012
Senior Design Center's Posters and Pies to be held on April 27th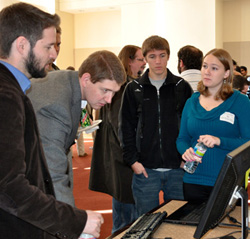 The public is cordially invited to attend the NC State Department of Computer Science Senior Design Center "Posters & Pies" event on Friday, April 27, from 10:40 am - 1:00 pm.
Project presentations will be held 10:40 am - 11:30 am in Engineering Building 2 (EB2) room 1025 on NC State's award-winning Centennial Campus. Posters and demonstrations will be displayed 11:30 am - 1:00 pm in rooms 3001 & 3002 in EB2. Lunch (pizzas and dessert pies) will be provided. The event is sponsored by Super ePartners, EMC & Tekelec.
This semester, the sponsors and projects are as follows:
AT&T

– Network Topology Discovery for Outage Aggregation

Bronto Software

– R.O.A.R.

Cisco

– Distributed OpenFlow

Deutsche Bank Global Technology

– Game On! Mobile Stock Trading

Duke Energy

– A Power Outage Reporting Tool

EMC

– Backup Load Generation & Analysis

Entrepreneurs

– MetArena – A Metagame for the Thinking Gamer

Fidelity Investments

– A Project Manager's Dashboard

Gehringer/Heckman

– PackChatter – A Virtual TA

IBM

– Big Data Analytics

I-Cubed

– A Project Management Portal

Johns Hopkins University/Applied Physics Laboratory

– Trust No One

NetApp

– QoS Visualization

Northrop Grumman

– DWATS – Distributed Wireless Animal Tracking System

Prometheus

– Web Key Performance Indicators

SAS

– HTML5 Application Development

Teradata

– SPOTs – Specialized Personal Offer Targeting System

Transloc

– TransitCrowd

Two Toasters

– Stained Glass Viking

Undergraduate Research

– Your Code Stinks! /rfactor/ It!

Werum

– URMC – User Rights Management Configurator
The media is welcome to this event.
Senior Design Center contacts:
Margaret R. Heil, Interim Director, (919) 515-6020,
heil@ncsu.edu
Media & Corporate Partnership contact:
~coates~
Return To News Homepage