CSC News
April 16, 2012
Sleeth Receives COE 2012 Award for Excellence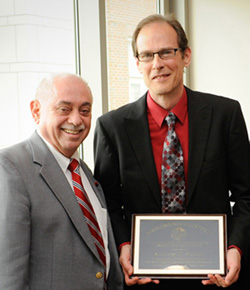 The Computer Science Department at NC State University is pleased to announce that Andrew Sleeth, admissions specialist in the Department's Graduate Office, has been recognized as one of three recipients of a College of Engineering 2012 Award for Excellence.
Carlos Benavente, IT Manager in the Computer Science Department, was also nominated for the award.
Awards for Excellence eligibility criteria include: outstanding service, innovations, public service, safety/heroism, and human relations. The awards were announced at a ceremony held April 5. Dr. Louis Martin-Vega, dean of the College of Engineering
(pictured here with Sleeth)
, presented the winners with plaques and $250 gift checks. The winners also received eight hours of paid time off and are now nominees for the NC State University Award for Excellence.
Per Sleeth's nomination, "…the CSC graduate program is one of the largest in the university with over 1,600 applications for Fall 2012, so the issue of effectively processing applications is very important. Andrew is very hard working and bears up under a workload that for many people would be staggering… Andrew is very resourceful, independent, and great at solving problems. He shows outstanding initiative, and really looks for ways to do things better, on his own, and is willing to take on significant challenges to do so…"
The two other College of Engineering 2012 Awards for Excellence winners were Brian Koehler, director of international engagement in the Academic Affairs Office, and Toni Pascucci, student services assistant in the Department of Civil, Construction, and Environmental Engineering.
For more information on the College of Engineering Awards for Excellence, click here.
~coates~
Return To News Homepage