CSC News
March 14, 2012
Entrepreneurship Initiative Students Travel to Silicon Valley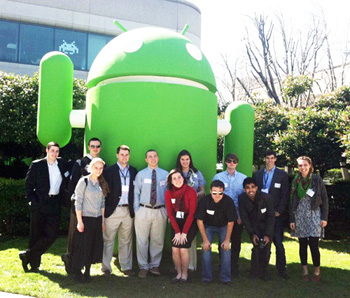 NC State's Entrepreneurship Initiative sponsored its annual Spring Break trip to Silicon Valley March 3-7. A dozen EI students were selected to travel to the Bay Area, which included visits to a variety of start-ups and entrepreneurial-minded companies.
"I learned about the variety of different entrepreneurs in Silicon Valley, from small two person companies to huge companies with 10,000+ worldwide employees," explained Aaron Averill, Master of Computer Science student.
Students participated in small group discussions with entrepreneurial leaders, many of whom were NC State alumni, as well as toured their facilities. Apple, Facebook, Flextronics, Google, Kleiner Perkins Caufield & Byers, Launchpad Toys, NEST, Prezi, myKindreds, and TechShop San Jose generously hosted the EI group.
According to College of Management student Gillian Tremblay, "Each company and person had something unique to offer the group, whether it was through discussion or touring."
Students agreed the best part of the trip was being surrounded by entrepreneurs, from the companies they visited to their fellow students and NC State alumni. Students witnessed firsthand the passion that an entrepreneur must have to bring an idea to fruition.
"By immersing yourself in in an area that caters to entrepreneurship, you gain vast knowledge and insight into the mindset of [an] entrepreneur," said John Hathorn, College of Humanities and Social Sciences.
While the majority of the Silicon Valley trip consisted of company visits, students spent time in San Francisco and at Stanford University. Even meals reflected the entrepreneurial spirit! NC State students dined with alumni at Delancey Street Restaurant in San Francisco, a real life example of social entrepreneurship.
"The most amazing thing about Silicon Valley is that NCSU pride runs rampant," said Brandalyn Furr, College of Humanities and Social Sciences. "The whole trip was a huge testament to the quality of education and professional preparation that our University provides for its students."
Application information for Silicon Valley 2013 will be available this fall.
Visit our Facebook page to see pictures from this year's trip.
~###~
Return To News Homepage