CSC News
March 29, 2012
Murphy-Hill Wins Microsoft SEIF Award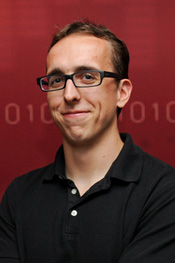 Congratulations to Dr. Emerson Murphy-Hill, assistant professor of computer science at NC State University, on receiving a Microsoft Research Software Engineering Innovation Foundation (SEIF) Award valued at $25,000. The award will fund his proposal "Using Refactoring Tools Without Awareness of Refactoring Tools."
Murphy-Hill was one of 10 worldwide winners chosen out of the more than 100 submissions for research grants in software engineering research related to mobile and cloud computing. The winners will be recognized at the new annual SEIF Day to be held July 18, 2012 at the Microsoft headquarters in Redmond, WA.
Microsoft Research presents the Software Engineering Innovation Foundation (SEIF) Awards to support academic research in software engineering technologies, tools, practices, and teaching methods. For more information on the SEIF Awards, click here.
For more information on Dr. Murphy-Hill, click here.
~coates~
Return To News Homepage