CSC News
March 22, 2012
Udechukwu Selected for GEM Fellowship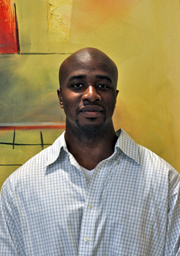 Robinson Udechukwu
, a PhD student in the NC State Department of Computer Science, has been selected for a prestigious GEM Fellowship. Fellows receive a $16,000 stipend in the first academic year of the Fellowship; GEM University support (stipend and assistantships) for subsequent years, up to five, equivalent to other funded doctorate students in the department; and full tuition and fees at the GEM Member University.
The GEM Fellowship Program is sponsored by the National Consortium for Graduate Degrees for Minorities in Engineering and Science, Inc. (GEM). The goal of the GEM Fellowship Program is to increase the number of minority students who pursue doctoral degrees in the natural science disciplines – chemistry, physics, earth sciences, mathematics, biological sciences, and computer science. Since its founding in 1976, the program has graduated over 3,000 researchers, professors, entrepreneurs, inventors, and business leaders, including over 200 men and women with doctorates in the physical sciences, life sciences, and engineering.
For more information on the GEM Fellowship,
click here
.
~coates~
Return To News Homepage