CSC News
March 02, 2012
NC State's Video Game Design Program Recognized By The Princeton Review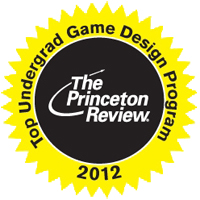 For the second year in a row, NC State University has been recognized as one of the top undergraduate programs to study video game development on The Princeton Review's third annual list saluting the best schools in the U.S. and Canada. The list, "Top Schools for Video Game Design Study for 2012," recognizes a total of 50 institutions for their outstanding game design education programs. It names 10 undergraduate and 10 graduate schools in rank order to its respective "top 10" lists, and 22 undergraduate and 8 graduate schools as Honorable Mentions. NC State received an Honorable Mention on the undergraduate program listing.
The list is published on The Princeton Review's website here.
The Princeton Review chose the schools based on a comprehensive survey it conducted in the 2011-2012 academic year of administrators at 150 institutions offering game design coursework and/or degrees in the United States and Canada.
The survey, which included more than 50 questions, covered a wide range of topics from academics and faculty credentials to graduates' employment and career achievements. Criteria for The Princeton Review's school selections covered the quality of the curriculum, faculty, facilities and infrastructure. The Company also factored in data it collected from the schools on their scholarships, financial aid and career opportunities.

Dr. R. Michael Young
, associate professor of computer science and co-director of the Digital Game Research Center at NC State said, "We're very excited to be ranked so strongly by The Princeton Review for the second year in a row. It's a reflection of the strong academic programs we have in games here at NCSU and of the impact that our graduates are having at leading games companies like Epic Games, Red Storm Entertainment and many others. NC State has a unique program that blends games courses taught in world-class engineering and design colleges. Instructors work with North Carolina games industry leaders like Electronic Arts, Zynga, Microsoft Game Studios and many others to ground class work in real-world practices. As a result, our graduates are trained as excellent software developers or designers with all the tools they need to hit the ground running at a game company. Our graduates land jobs at large, international companies like Epic Games, dynamic North Carolina game studios like Spark Plug Games or start-ups that they found themselves, like Mighty Rabbit Studios."
Said Robert Franek, Princeton Review Senior VP/Publisher, "It has long been our mission to help students find – and get in to – the schools best for them to pursue their interests and develop their talents. For the burgeoning number of students aspiring to become game designers, we highly recommend NC State as one of the best and most innovative places to study and succeed in this exciting field. We also salute the faculty and administrators in the Computer Science Department at NC State, and the other schools on our 2012 list for their extraordinary programs and commitment to students. "
The Princeton Review developed its "Top Schools To Study Video Game Design" list in 2009-2010 with assistance from a ten-member national advisory board that helped design the survey instrument and methodology. Board members included administrators and faculty from respected game design programs, and professionals from some of the top gaming companies.
For more information on the computer science department's undergraduate concentration in game development, click here.
For more information on the NC State Digital Games Research Center, click here.
~coates~
Return To News Homepage