CSC News
February 15, 2012
PhD Students Present Talk at Carolina Games Summit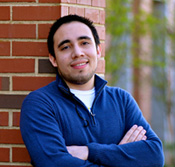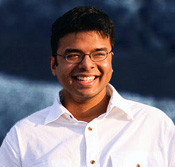 Titus Barik
and Rogelio Cardona-Rivera, PhD students in the NC State Department of Computer Science, presented a talk on February 4 at the Carolina Games Summit. The event, held annually at Wayne Community College in Goldsboro, NC, unites game developers, game educators, and game players, and features video game tournaments, industry speakers, educational sessions, and exhibition booths.
Titus and Rogelio gave a live programming talk on the basics of Artificial Intelligence in Video Games. The talk, which was given to a broad audience ranging from high school students to industry professionals, covered what goes on "under the hood" in video games when you play against computer opponents. They discussed how artificial intelligence is used for creating challenging gameplay as well as believable character behavior.
"Our presentation at the Carolina Games Summit was more than just an opportunity to talk about the practical aspects of artificial intelligence in games. It also offered us a chance to encourage potential students at community colleges and high schools around North Carolina to consider an education in STEM fields, such as computer science," said Titus, who is a licensed Professional Engineer and holds a Masters of Engineering degree from the ECE Department at NC State.
"We were very excited to present at the Carolina Games Summit. Being able to show the skills that we acquire at the Digital Games Research Center and NC State is important; not only for prospective students considering applying to NC State, but also for current students aiming to get jobs in the games industry. We once again showed that the Wolfpack is technically competent and professionally capable," said Rogelio, who is a Department of Energy Computational Science Graduate Fellow.
Michael Everett
, Creative Director of the Carolina Games Summit and Wayne Community College instructor, highlighted the importance of the presentation: "One of our goals here at Wayne Community College has been to introduce more technical subjects within our Simulation and Game Development curriculum. Their presentation has provided us with a clear path towards accomplishing this goal. As a direct result of the presenter's work, we will be offering a course in Game AI (SGD 125: Artificial Intelligence) next Fall."
Sharon Bull
, Department Chair of Information System Technology at Wayne Community College, said "Titus and Rogelio did an excellent job of presenting a complicated subject in a way that everyone could understand. I am very grateful that both of them gave up their Saturday to help make the Carolina Games Summit a success."
After the event, Titus and Rogelio remarked, "It is always fun to come out and give a talk about the field you are passionate about. Artificial intelligence is an exciting but technically difficult subject. Being able to present it in a way that could be appreciated by both experts as well as non-technical participants was very rewarding."
For more information about Titus Barik, click here.
For more information about Rogelio Cardona-Rivera, click here.
For more information about the Carolina Games Summit, click here.
For more information about Wayne Community College, click here.
~###~
Return To News Homepage