CSC News
February 20, 2012
Scholarship Endowment to Honor Dr. Thomas Honeycutt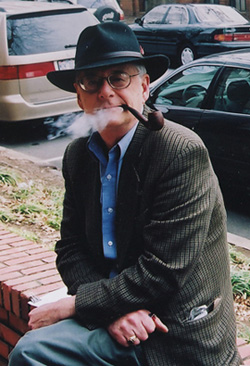 After more than 40 years of distinguished service to the NC State University's Department of Computer Science, Dr. Thomas L. Honeycutt, associate professor of computer science, has announced his intentions to retire in June at the end of the 2011-2012 academic year.
Honeycutt received his Ph.D. from NC State University in 1969, and joined the department in 1970. Except for a three-year industry assignment at Texasgulf, he has served the department in a variety of roles for the past 40 years. In addition to inspiring thousands of students with his unique wit and enthusiastic style, Honeycutt's legacy will forever be part of our department's history.
Among his many roles and achievements, he served as the department's first Undergraduate Coordinator (1974-1975), first Associate Department Head (1975-1979, a role he held again in 1986-1991), Chair of the Faculty Senate (1987-1988), and he oversaw the department's transition from the College of Physical and Mathematical Sciences to the College of Engineering (1988-1989). Of all his accomplishments, he says he is most proud of establishing the Computer Programming Certificate Program (1979) and having served as a working member of graduate committees for every college/school at NC State.
Upon hearing of Honeycutt's retirement plans, several alumni have suggested doing something special as a tribute to this department icon and to ensure that his legacy will forever be a part of our department's history.
Distinguished Engineering Alumnus, Bobby R. Johnson, Jr. (B.S. '77), founder and former CEO of Foundry Networks, recalls the impact that Honeycutt had on his career saying, "Tom helped me get my first job at IBM and helped make valuable connections that served as the foundation for my career." Bobby and his wife, Donna, have taken the lead role in helping establish an endowment in Honeycutt's honor. They are pledging to match dollar-for-dollar the collective donations received up to $50,000 toward the creation of the Dr. Thomas L. Honeycutt Scholarship Endowment.
Proceeds from the Endowment will be used to provide need-based undergraduate scholarship support with a preference to students who are first generation college students and/or students from military families. More important, it will help ensure that future generations of Computer Science students at NC State come to know Honeycutt and gain some appreciation of his impact on our department's history.
Individuals or corporations interested in contributing to this fund can complete and submit a pledge form along with a check made payable to the "NC State Engineering Foundation" noting for the "Dr. Thomas L. Honeycutt Scholarship Endowment" in the memo section. Donations can be sent to the NC State Department of Computer Science, Attn: Ken Tate, Campus Box 8206, Raleigh, NC 27695.
~coates~
Return To News Homepage