CSC News
January 27, 2012
Marshall Brain Recognized as College of Engineering 2011 Distinguished Alumnus
College recognizes 2011 distinguished alumni
The College of Engineering at North Carolina State University has named the Distinguished Engineering Alumnus award winners for 2011. The recipients are Marshall D. Brain, founder of HowStuffWorks.com; William H. Dean, president and CEO of M.C. Dean, Inc.; and Robert R. Womack, former chairman and CEO of Zurn Industries, LLC.
The awards were presented by Dr. Louis A. Martin-Vega, dean of the College of Engineering, at a banquet held Jan. 26 at the Park Alumni Center on NC State's Centennial Campus. The award honors alumni whose accomplishments further their field and reflect favorably on the university.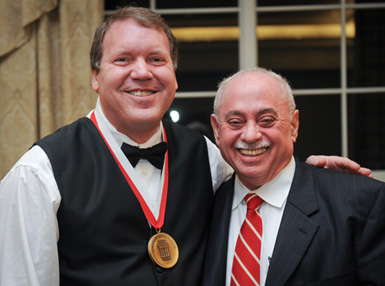 Brain (pictured here with Dean Martin-Vega) graduated from NC State in 1989 with a master's degree in computer science. Nine years later, he founded HowStuffWorks.com, an award-winning website that offers easy-to-understand explanations of how the world around us actually works. Brain created the website as a hobby, and as it grew, he carried it through several rounds of venture funding totaling approximately $8 million. Discovery Communications purchased the site for $250 million in 2007.
Brain is the author of more than a dozen books and has been a guest on TV and radio programs nationwide, including "The Oprah Winfrey Show" and "Modern Marvels." Brain also hosted the National Geographic Channel's "Factory Floor with Marshall Brain," a show that gives viewers an inside look at how factories create products like airbags, tennis balls and fire extinguishers.
Prior to his career as a successful entrepreneur, Brain lectured in NC State's Department of Computer Science for six years, earning recognition as a member of the NC State Academy of Outstanding Teachers. He is currently working with the department to design a course that will focus on innovation and technology.*
Brain and his wife, Leigh, have contributed financially to NC State and have maintained close ties to the university. He has spoken at NC State's Entrepreneurs' Lecture Series, the Fidelity Investment "Leadership in Technology" Executive Speakers Series, and Engineers Week. He also was the emcee for the 2010 summit on the National Academy of Engineering Grand Challenges in Raleigh, an event co-hosted by the College and Duke University's Pratt School of Engineering.
Dean received his bachelor's degree in electrical engineering from NC State in 1988. Since 1997 he has been president and CEO of M.C. Dean, Inc., a company founded in 1949 by Dean's grandfather, Marion Caleb Dean. The firm has become a diversified leader in power engineering, applied electronics, information technology, controls systems, software, and systems integration for complex, mission-critical organizations.
Under Dean's leadership, M.C. Dean has not only increased and diversified its engineering competencies, but also increased its total annual revenues thirtyfold and grown from a company of 100 employees in 1997 to 3,300 employees today. The company has offices throughout the United States, Europe, Africa and the Middle East. In 2009, Dean created the M.C. Dean Foundation, which supports nonprofit organizations in their efforts to improve the communities they serve.
Dean and his company have been great allies of the College. M.C. Dean is an active recruiter of NC State engineering graduates, a consistent participant in the NC State Engineering Career Fair and an industry member of the FREEDM Systems Center, a National Science Foundation Engineering Research Center headquartered at NC State that is dedicated to smart grid technology and distributed energy.
Dean is also a member of the College's Dean's Circle and the NC State Engineering Foundation Board of Directors. He delivered the 2009 winter commencement address for the graduates of the Department of Electrical and Computer Engineering.
Womack earned his bachelor's degree in mechanical engineering with an aeronautical option from NC State in 1959. Following graduation, he served as program manager of advanced missiles systems at McDonnell Douglas, which later merged with Boeing, from 1959 to 1970.
Womack then served as partner at McKinsey & Company, a global management-consulting firm. While in this position, he advised clients in areas of strategy, organization and capital investments and led a team that defined the organization and management plan for the NASA Space Transportation System, otherwise known as the space shuttle program.
Womack later went on to serve as chairman, chief executive officer or president of four New York Stock Exchange companies: Zurn Industries, US Industries Bath and Plumbing Products, Imo Industries, and Ranco, Inc. During his tenure with those companies, from 1986 to 2000, Womack led business turnaround, restructuring and development activities and was involved in more than 50 acquisitions, mergers and divestments.
Womack has served on the Boards of Directors for 11 companies. He has also served on the Board of Trustees of Gannon University and the Council of Fellows of Penn State Behrend.
Womack and his wife, Judith, have been generous supporters of the university's Chancellor's Circle as well as the College's Dean's Circle. They recently established the Robert R. and Judith H. Womack Scholarship in the College, and Robert Womack delivered the commencement address during the Department of Mechanical and Aerospace Engineering's graduation this past spring.
He holds a master's degree in systems engineering from the University of California, Los Angeles.
*Editor's note: Marshall Brain is currently serving as a Distinguished Engineering Alumnus Lecturer in the NC State Computer Science Department. He is teaching a class called "Enterprise Innovation" which will help students "develop an entrepreneurial mindset that allows ideas to move from the drawing board into the marketplace."
Return To News Homepage