CSC News
January 23, 2012
Fidelity Investments Speakers Series Presents Bill Smith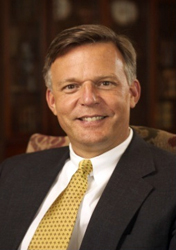 Please join us on February 16th at 6 pm in Lecture Hall 1231 EBII for our next spring 2012 talk in the Fidelity Investments "Leadership in Technology" Executive Speakers Series.
Our special guest speaker will be Bill Smith, President of Network Operations at AT&T. His talk topic will be "Leadership in a High Tech World."
In his role as President of AT&T's Network Operations, Bill is responsible for all network related operations across the company's global service footprint. These responsibilities include the Global Network Operations Center, Mobility and Wireline Central Offices, Undersea Cable Infrastructure, Construction and Engineering with Wireless Field Operations, Core Installation and Maintenance, and U-verse Field Operations. A native of Asheville, North Carolina, Bill is a frequent and highly acclaimed speaker. He graduated with honors from NC State University in 1979, and serves on the Board of Advisors for the Graduate School there. He and his wife, Robin, have three daughters.
Abstract: The world of communications has significantly changed in the last 10 years, driven by wireless and the internet advances. AT&T is a pioneer in this evolution. Mr. Smith will discuss how the technology has evolved through the years, how the regulatory and government policy progressed with these changes, and how leadership must adapt to deal with the human dimensions of a technical transformation.
The event is free and open to the public. Ample free parking is also available.
For directions and more information, click here.
Return To News Homepage