CSC News
January 12, 2012
Meet Gus Summers - The Turnaround Guy
Summers has built a career on problem solving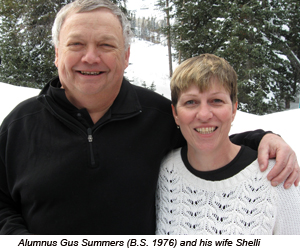 Albert Einstein was once quoted as saying "I have no special talents. I am only passionately curious." The ability to be curious, to problem-solve, was highly rated by a man who left his mark on the world. Even with the most technological advances available to mankind today, problem-solving skills are still the key to success. No one knows that better than NC State alumnus Gus Summers (B.S. CSC '76), who has made a name for himself as a problem solver who can save failing businesses and ultimately save jobs.
A 1976 computer science graduate of NC State, Summers actually began his educational career a few years earlier by studying economics, but due to a call to the military, he cut his time short, only to return later as a more mature and focused student who wanted to major in computer science.
"Tom Honeycutt was the professor that really helped me become serious about school," Summers remembered with great admiration. "When I came back to NC State, I gave the professors a pretty hard time and wouldn't let them get by with anything because I really wanted to learn."
In the 1970s, the computer had a much different role than it does today, Summers said.
"Back then, math and problem solving were the main focus of a student's education and the computer was just a tool to help solve the problem," he said. "Professor Honeycutt was great at helping students learn theoretical math and how to solve operations research-type problems. Today, I constantly use these tools in supply chain management and financial management to help companies achieve their optimal potential."
Having learned that skill early in his career has served him well in his 30-plus years in industry, since from his perspective, every business is a classical optical mix problem.
"You have this formula: customers + service + price = profit. Working all that together so there is a profit is a classical optimal mix problem," he said.
Summers took his problem-solving skills to the textile industry, where he spent 17 years as a "turn-around" guy, taking failing businesses and streamlining them until they were profitable again. Many familiar textile leaders have summoned the "turnaround guy" to streamline their process and raise their profits. Summers' other achievements include constructing and implementing a $60 million totally automated distribution center, shipping apparel to high volume retailers at the lowest cost.
"We had 66,000 pallet spaces in that automated textile storage facility and not a single person," he remembered with a laugh of amazement.
From the textile industry, Summers moved on to the technology industry in 1997, managing high visibility distribution launches of clients such as Microsoft, IBM, HP, Kodak, Palm, Intuit, and Southwest Bell's DSL program.
While working for other companies has been a major part of his career, Summers has also had a successful run as founder and start up partner in several supply chain consulting businesses as well as logistics and distribution companies.
Being the "turnaround" guy isn't always what it is cracked up to be, as his tough decisions often led to large layoffs in order to keep businesses afloat.
"While I enjoy solving problems logically, it does come at a price," he said. "I have often been thought of as the meanest man to show up at a facility, but many times I have also been told that if it hadn't been for me making tough decisions, those companies would have completely closed down."
And like most problem solvers, Summers never looks at tearing something down without considering the flip side of how to build it back up to turn a profit.
"When things are going well, people tend not to think as logically, but once a business falls apart, it becomes much easier to make hard, but logical decisions," he said. "Building it back up is the fun part because you get to help them figure out who they are and what they want to do to become profitable again."
So what kind of advice would the "turnaround guy" give to those who are facing the first steps of their career path, unsure of which fork in the road will take them towards success and satisfaction, versus a dead end or one way career path?
"Always love to continue learning," he said. "It's hard to tell someone just starting out to be sure they will continuously have to be learning to succeed in whatever career they choose. The learning process never stops. Jobs end, but careers last a lifetime."
Summers also sees a trend in younger workers toward the dream to be the Mark Zuckerberg, the founder of Facebook, a social network.
"There is a lot of fascination with technology, but not as much interest in the ability to apply the technology in the day-to-day needs," he said. "The demand in the market is more for the day-to- day operations than creating the newest application for the desktop."
Evaluating your definition of success is another key element to a successful, long-term career, Summers said.
"Not many people can say they have worked for 30 years and have been happy at their job, but I can," he said. "I'm not a millionaire, but I have a nice home, take great vacations and am financially secure. And I couldn't have done those things without a good education."
~brackett~
Return To News Homepage