CSC News
June 12, 2012
Masters in Computer Networking Joins PSM Program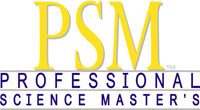 The NC State Computer Science Department is pleased to announce that the Masters in Computer Networking is now part of the Council of Graduate Schools Professional Science Master's (PSM) program.
The PSM program is an innovative concentration that allows students to develop workplace skills, which are highly valued by employers, while they are pursuing their studies in computer networking. In addition to receiving a master's degree in Computer Networking, students will also receive a Professional Science Master's designation on their transcripts. The PSM program is nationally recognized, and more information can be found on the website of the NC State Graduate School, and links within.
PSM programs can avail of a new tool, e-mentoring, that matches industrial mentors to students. A mentor may advise more than one student using email, phone or even face-to-face meetings. It's up to the mentor and student to decide how, when and the frequency. Mentors are currently needed. For more information, please click here.
The PSM program began in 1997 with a series of grants from the Alfred P. Sloan Foundation to selected research universities. For more information on the PSM program, click here.
The Masters in Computer Networking becomes the 10th PSM program at NC State. Program coordinators are Dr. Harry Perros (Computer Science), and Dr. Mihail Sichitiu (Electrical and Computer Engineering). For more information about the NC State Masters in Computer Networking program, click here.
~coates~
Return To News Homepage