CSC News
January 09, 2012
Data Defender - Unmasking Malware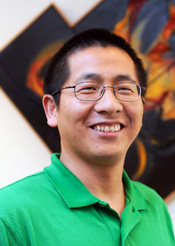 The smartphone market is one of the fastest growing in the technology sector, and Android has the largest share of that market. So identifying malware that attacks Android users is becoming more and more important. In 2011, Xuxian Jiang, an assistant professor of computer science at NC State, staked a claim as a leader in the field of malware detection.
And in November, his team announced that some Android smartphones have incorporated additional features that can be used by hackers to bypass Android's security features, making them more vulnerable to attack. The full paper on that finding is available here.
In addition to identifying malware, Jiang was also part of a team that developed new software to help protect Android users from data theft.
2011 also saw Jiang launch a formal collaboration with NetQin Mobile Inc., to better identify and monitor emerging mobile threats. NetQin is a leading global provider of consumer-centric mobile security and productivity applications. The collaboration not only recognizes Jiang's earlier achievements and leadership, but also creates opportunities to better understand and monitor real-world mobile threats at scale – and develop next-generation mobile security solutions.
Assuming hackers don't take the year off, 2012 promises to be equally interesting for Jiang and his team. And he's recruiting.
"I am always looking for highly motivated students," Jiang says, "including both graduate and undergraduate students, who want to take a role in building next-generation secure mobile systems such as smartphones and mobile devices."
Return To News Homepage