CSC News
December 16, 2011
Sheridan Named 2011 Leader of the Pack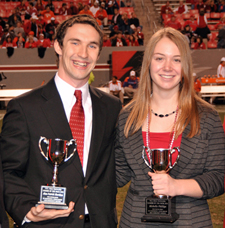 Congratulations to Alan Sheridan, a junior in the NC State Computer Science Department, on being named a 2011 Leader of the Pack.
The Leader of the Pack program recognizes two students who make outstanding contributions to NC State in the areas of leadership, scholarship and community service. It replaces NC State's traditional homecoming queen and king contest. Finalists for the honor are selected based on grade-point average, a personal interview, extracurricular activities, written essays on their leadership and service experience, and student-body vote.
Michelle Phillips
, a junior in the NC State Mechanical and Aerospace Engineering Department, was the other 2011 recipient. The Leader of the Pack awards were presented during the November 19, 2011 Homecoming football game against Clemson University.
For more information on the Leader of the Pack Program, visit the CSLEPS site.
~coates~
Return To News Homepage