CSC News
December 14, 2011
Helping Museums Pursue Interactive Technology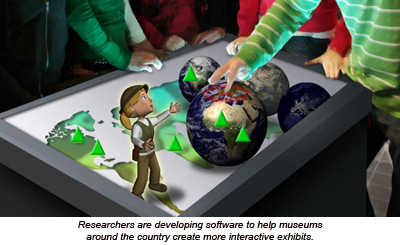 In an attempt to better engage and educate the public about everything from space exploration to art history, museums are becoming increasingly interactive. But many museums lack the resources or expertise to take full advantage of emerging technologies. What to do?
"Our big-picture goal here is to come up with both free software and a how-to guide for designing interactive exhibits that make people want to invest their time in learning more, and actually help them understand what they're looking at," says James Lester, a computer science professor at NC State who is leading the project.
The research team is currently developing a pilot exhibit called "Future Worlds." The exhibit will be geared toward children, and will allow them to travel through time to see how various social and economic decisions have impacted the environment.
"We plan to begin testing the exhibit with the general public in 2012," Lester says, "and continuing to fine-tune our software and best-practices guidelines into 2013. We're looking forward to creating a technology that can be used by museum professionals around the country."
The project is funded by a two-year, $700,000 grant from the National Science Foundation. The research team includes Lester, Bradford Mott, James Minogue, Patrick FitzGerald and Marc Russo of NC State, as well as Roy Campbell of the N.C. Museum of Natural Sciences.
~shipman~
Return To News Homepage