CSC News
December 08, 2011
Department Welcomes Azab to Staff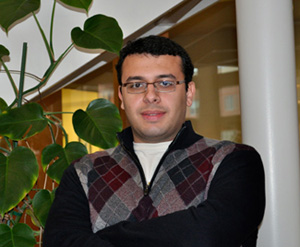 The NC State University Department of Computer Science is pleased to announce the addition of Ahmed Azab to our staff as a Senior Research Associate in the Institute for Next Generation IT Systems (ITng).
ITng is a joint university/government/industry research organization located within NC State's College of Engineering. Its mission is to provide a forum for collaboration between partners, faculty and students to research solutions that address current IT challenges.
In his new role, Azab is involved in the design, development, and maintenance of virtualization security software aimed at providing security protection for virtual computing cloud infrastructures. He will work closely with researchers in ITng and targeted users to identify system requirements, and help develop system architectures including hardware and software recommendations. He will collaborate with staff and students on solving research problems while offering system design and implementation guidance. He will participate in research projects and will also oversee the design, development and documentation activities of junior software developers.
Azab received his B.S and M.S degrees in Computer Engineering from Cairo University in Egypt. He will graduate with his PhD. in Computer Science from NC State in Spring 2012. His PhD research focused on improving the security and trustworthiness of the cloud-computing infrastructure.
Please join us in welcoming Azab to our department.
~coates~
Return To News Homepage