CSC News
December 06, 2011
Rouskas Honored as IEEE Fellow for Achievements in Optical Networks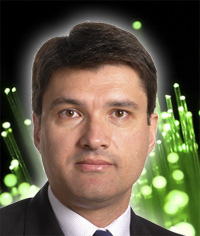 Dr. George N. Rouskas
, professor of Computer Science at NC State University has received the distinguished honor from the
Institute of Electrical and Electronics Engineers (IEEE)
, by being voted an
IEEE Fellow
for his contributions to optical network design research.
Rouskas is now the sixth IEEE Fellow in the department, joining Drs. Donald Bitzer (1982), Wushow "Bill" Chou (1987), Mladen Vouk (2001), Munindar Singh (2008), and Harry Perros (2009).
"I am extremely happy for this recognition, as it comes early in my career," Rouskas said excitedly. "I'm told I have another 25 years ahead of me to make many more contributions to my field."
Rouskas joined the faculty at NC State in 1994, coming from the Georgia Institute of Technology, Atlanta, GA, where he received his M.S. and Ph.D. and M.S. degrees in 1991 and 1994. He received his undergraduate degree in Computer Engineering from the National Technical University of Athens (NTUA), Athens, Greece, in 1989. From his first visit to the NC State campus, Rouskas knew this was the environment in which he wanted to build his career.
"It was really love at first sight, although I did come here during a snowstorm so the actual conditions were not that good," he said. "It was a very collegial interview experience and everyone treated me so well, I knew that that if they made me an offer, this was where I wanted to teach."
While Rouskas is highly regarded for his well-funded research program in the field of computer networking, he rates being in the classroom as equally significant as his research. His love of teaching and challenging students is evident in his approach in the classroom and the recognition he has received as a professor.
"My main responsibility is making an impact on my students and I really enjoy teaching," he said. "I try to encourage my students to not only learn from their classroom experience, but to explore the future and what the possibilities are of learning outside the classroom."
So highly regarded by his students, Rouskas has been widely recognized for his teaching by being inducted into the NCSU Academy of Outstanding Teachers in 2004, and receiving the Outstanding New Teacher Award from the Department of Computer Science in 1995, with such glowing students reviews as the following:
"You are very systematic and have a clear vision of your concepts which clearly shows in the way you structure your course
and projects…Your course was like a wholesome meal with all the needed ingredients – learning new concepts; projects in
coding the research report and presentation."
In the research field, Rouskas has accomplished much including serving as an IEEE Distinguished Lecturer for the Communications Society for 2010-2011, receiving the ALCOA Foundation Engineering Research Achievement Award in 2004, the NSF Faculty Early Career Development (CAREER) Award in 1997 and the Graduate Research Assistant Award from the College of Computing, Georgia Tech 1994. He is a co-author of three papers that received Best Paper Awards at three prestigious conferences and founded and serves as co-editor-in-chief of Optical Switching and Networking (OSN), an Elsevier journal. He also served as the founding director of the Masters of Science in Computer Networking (MSCN) degree program at NC State, is a member of the ACM, and a member of the Technical Chamber of Greece.
Rouskas' work in optical networks has raised its importance in a technical landscape that focuses heavily on the ability and speed of wireless networks. Another area that Rouskas is gaining notoriety is his newest research project which addresses one of the key problems in the current Internet – how to design a network that ensures long-term innovation inside the network core. Rouskas is studying the possibilities of enabling choice for users among different service alternatives and how it will drive the future infrastructure of the Internet.
"I am a problem-solver. It is what I do and what I enjoy," he said. "If you look carefully, there are always good problems to solve, so I have a long career ahead of me as the needs for technology continually change."
For more information on the IEEE Fellow Program,
click here
.
~brackett~
Return To News Homepage