CSC News
November 29, 2011
Carol Miller to Speak at Fall Diploma Ceremony
The NC State University Computer Science Department will hold its Fall Diploma Ceremony on Friday, December 16 at 7 p.m. in the main sanctuary at Hope Community Church, located at 821 Buck Jones Road, Raleigh (directions).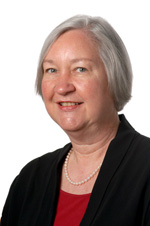 Carol Miller
, former lecturer in the NC State University Department of Computer Science, will provide the keynote address. The beloved lecturer retired in June 2009 after more than 24 years of devoted service to the department.
While at NC State, Miller was inducted into the NC State University Academy of Outstanding Teachers, and was named an Alumni Distinguished Undergraduate Professor. She was deeply involved with students during her time at NC State, including serving almost 20 years as the faculty advisor for the ACM student organization. Many of her students, in a show of deep appreciation for her efforts on their behalf, chose to establish the Carol Miller Student Leadership Endowment. The endowment is intended to pay tribute to Miller's legacy as a teacher, mentor, advisor, advocate, and friend to thousands of students over her career. Proceeds from the endowment are used for students, student organizations or student programs, emphasizing undergraduate students in need of resources to explore new and innovative paths.
Miller earned her Bachelor of Science degree in Mathematics, Phi Beta Kappa, from the University of Kentucky in Lexington, KY, and her Master's Degree in Computer Science at Stevens Institute of Technology in Hoboken, NJ. She began her career on the technical staff at Bell Laboratories in Whippany, NJ and Naperville, IL, before moving on to become a senior digital systems engineer at General Electric, Nuclear Fuels Division, in Wilmington, NC. She is now retired and living in Brevard, NC where she volunteers as a tutor and board member of the Rise and Shine Freedom School.
Approximately 140 graduates are expected to receive their degrees during the December 16th ceremony.
Our special thanks go to EMC, the NC State Engineering Foundation, and the ePartners Program for their generous sponsorship of this event.
For the convenience of guests who might require overnight accommodations, there are a number of hotels located in the immediate area. For more information, click here.
NOTE TO GRADUATES
: There are several ways to commemorate this special occasion. As each graduate is handed his/her diploma, a professional photographer will take his/her picture. A free color proof will be sent to each graduate's current mailing address, including a password for online viewing. There is no obligation to purchase prints. To receive email notification when photos are online, please visit www.photospecialties.com to pre-register. If a proof is not received within a week of the ceremony, please contact info@photospecialties.com or call 1-800-722-7033.
In addition, Hope Community Church provides professional AV capabilities allowing for live broadcast of the ceremony from multiple camera angles. DVDs of the ceremony are available for a nominal $25 processing fee (click here for order form).
Finally, we invite you to help us build the engineering "pathway to the future" by laying a personalized brick in honor of your graduation for the Engineering Building II (EB2) walkway. Each brick is $150, will hold three lines of text with up to 18 characters per line. Bricks will be installed in front of EB2 where they will become a permanent part of our history. To order your commemorative brick, please click here.
~coates~
Return To News Homepage