CSC News
November 21, 2011
Leveraging Technology to Address Humanitarian Issues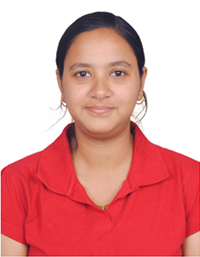 Preethi Krishnaswamy
, a Master's Degree student in the NC State Department of Computer Science, was selected to receive the IEEE Student Travel Fellowship, valued at $1,200, to attend the Global Humanitarian Technology Conference (GHTC) in Seattle, Washington October 30- November 1, 2011. She and Sampathkumar Veeraraghavan of Brahmam Innovations Lab presented a paper on their ongoing research titled, "A Novel Technology-Based Framework to Address Global Humanitarian Issues."
Abstract
: The paper presents the outcome of various technology-based humanitarian projects implemented using the Brahmam Innovation Model (BIM). The BIM model proposes and provides a unique platform to enable engineers to design and deliver innovative solutions towards addressing pressing global humanitarian issues in developing nations. The paper shares the impact of various technological solutions developed in our research in areas of healthcare and diagnosis systems, disability and rehabilitation, education, rural connectivity and agriculture. Two case studies have been discussed based on the technology developed - Information System on Human and Health Services (ISHHS) and a novel screener for developmental disorders. The results of the pilot studies conducted using the BIM Model are presented along with the best practices adopted.
Krishnaswamy has been working under the Brahmam team as a principal investigator, and is actively involved in developing information and communication technology (ICT) solutions to address humanitarian issues in the field of healthcare, medical diagnosis and education in developing nations like India.
Some examples of their recent and on-going work includes a screening system to detect developmental delays and facilitate early intervention programs in infants as young as 18 months. Children benefit from early detection and treatment, but in India, early intervention is difficult. The automated screener system, a software solution developed in their research, is being used by parents and other primary caretakers of children to assess their developmental milestones and to initiate appropriate actions. The system has been implemented in several special schools across Tamil Nadu, India, and has effectively facilitated early intervention and rehabilitation programs.
Krishnaswamy has also been involved with research to develop ICT-based educational solutions aimed at creating educational opportunities for people with disabilities, rural student populations, ethnic minorities, and females in developing nations. The ICT-based program is aimed at promoting education among the underprivileged groups and to assist them in improving their living conditions.
"The success of our humanitarian projects motivates engineers and encourages their participation in developing technological solutions for the benefit of humanity," says Krishnaswamy. "The results have brought in wide public visibility on the role of engineers in addressing global humanitarianism issues. As an engineer, it gives me immense satisfaction in bringing our positive changes in the lives of people below the poverty line through technological innovations."
For more information on Brahmam Innovations Lab,
click here
.
~coates~
Return To News Homepage