CSC News
November 15, 2011
Senior Design Center's "Posters & Pies" to Be Held on December 2nd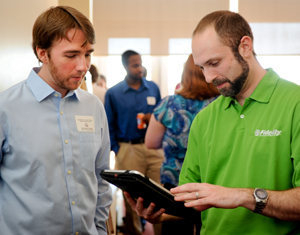 The public is cordially invited to attend the NC State Department of Computer Science Senior Design Center "Posters & Pies" event on Friday, December 2, from 10:40 am - 1:00 pm.
Project presentations will be held 10:40 am - 11:30 am in Engineering Building 2 (EB2) room 1025 on NC State's award-winning Centennial Campus. Posters and demonstrations will be displayed 11:30 am-1:00 pm in rooms 3001 & 3002 in EB2. Lunch (pizzas and dessert pies) will be provided.
The event is sponsored by Super ePartner, AT&T.
This semester, the sponsors and projects are as follows:
AT&T

– Blackouts

Deutsche Bank Global Technology, Inc.

– Stock Trading Game

Duke Energy

– EV Phone Home

Fidelity Investments

– Fencepost – Game Playing for Training

Johns Hopkins University/Applied Physics Laboratory

– Secure Login Over SSL/TLS

JouleBug

– Save Energy & Have Fun Doing It!

NetApp

– Analysis & Automation of SCSI Protocol Streams

North Carolina College of Veterinary Medicine

– Database Management System for Monitoring the Effect of Climate on Wildlife Interactions

SAS

– Node Link Visualization

Teradata

– SNIF – Social Network Influence Finder

TransLoc I

– Transit Crowd – The Bus Social Network

TransLoc II

– Trip Planner

Werum

– PAS-X Configuration Tool
The media is welcome to this event.
Senior Design Center contact:
Media & Corporate Partnership contact:
~coates~
Return To News Homepage