CSC News
November 15, 2011
Department Hosts Fifth NCSU Healthcare IT Forum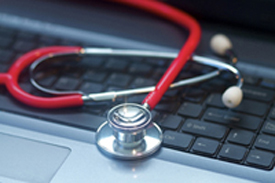 The Computer Science Department at NC State University will hold its Fifth NCSU Healthcare IT Forum on Friday, November 18, 2011 from 12:30 – 4:30 p.m. in Engineering Building 2 (EB2), room 3211.
The Forum will include presentations from members of the medical community and others involved in research and development of solutions to healthcare IT issues. Scheduled speakers include David Handelsman (SAS), Javed Mostafa (Carolina Health Informatics Program), Konda Mullapudi (Misys), James Murphy (NC Department of Health and Human Services), Gautham Pandiyan (Mi-Co), David Potenziani (National Collaborative for Bio-Preparedness), Robert Rehm (Smith Anderson), Michael Devetsikiotis (NC State Department of Electrical and Computer Engineering), and Jason King, Jeremy Maxwell, Pradeep Murukannaiah, and Ben Smith (PhD students in the NC State Computer Science Department).
Dr. Laurie Williams
, professor of computer science at NC State, is coordinating the Forum on behalf of the NC State Computer Science Department. Lunch will be provided, so please RSVP to laurie.williams@gmail.com.
For more information on the Forum, please click here.
~coates~
Return To News Homepage