CSC News
November 02, 2011
Reeves Named 2011 NC State Libraries Faculty Award Winner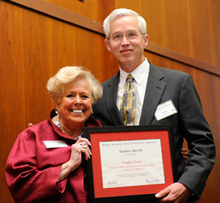 Dr. Douglas Reeves
, Director of Computer Science Graduate Programs and Professor of Computer Science and Electrical and Computer Engineering at NC State University, has been named the 2011 NC State Libraries Faculty Award Winner.
The award is given to an NC State faculty member who has contributed consistently and notably to the Libraries' mission, vision, and strategic initiatives. The award, established in commemoration of the library's centennial year in 1989, enables the library to recognize faculty contributions.
Reeves is a long-time member of the University Library Committee, and has served as its chair for the last three years. Susan Nutter, Vice Provost and Director of Libraries, said, "Doug's leadership, the respect and trust he consistently shows his student and faculty colleagues, and his ability to build consensus have made him a rock for the NCSU Libraries as we have wrestled with the budget constraints of the last few years. But it is his vision of what a great library can be in the Internet age that will be, I think, his real legacy with us."
Per Reeves' nomination letter from a faculty member, "Doug understands the changing nature of libraries in the digital environment and the challenges they must face in order to be vital drivers of research, learning, and collaboration. . . . He has lent his ideas and support to everything from digital technologies to increase use and discovery of library content, to enhancing spaces provided to students, to aggressively expanding online-only journal content."
For more information on the Library Faculty Awards, including a list of past recipients, click here.

~coates~
Return To News Homepage