CSC News
October 20, 2011
Fabulous Faculty Series Presents R. Michael Young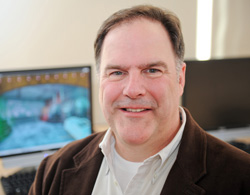 What are games doing in the university? Learn how NC State's Digital Games Research Initiative is creating the science of games at the next event in the Fabulous Faculty series, showcasing Dr. R. Michael Young on Wednesday, November 2 at 4:00 p.m. in the Assembly Room (East Wing, 2nd floor) in the D. H. Hill Library.
Young, an associate professor of Computer Science at NC State, is founder and director of the NC State Digital Games Research Initiative, and also directs the Liquid Narrative research group. He will discuss how the video game, once an object of parental scorn as an adolescent distraction, is now rehabilitating veterans, teaching science, solving crimes, extending lives, securing computer networks, making millions and creating jobs.
Young will describe the state of the video games industry, its impact on the social lives of Americans and how the research and teaching efforts of faculty at NC State's Digital Games Research Initiative have positioned us as leaders in the creation of the science of games.
~###~
Return To News Homepage